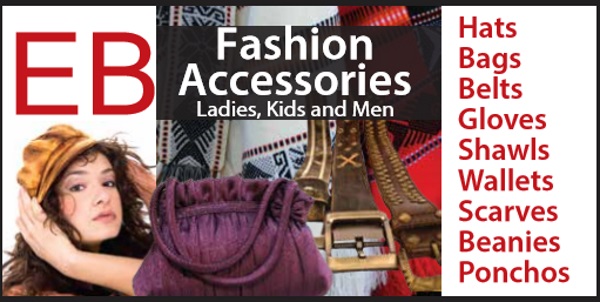 Ethne B is a major importer and supplier of high end fashion accessories to the major clothing and fashion chain stores across South Africa. The EB Accessories factory shops have a large number of top quality items available at their factory shops, including overruns, returns and rejects.
The whole family is catered for including ladies, kids and men. There are 23 shops, namely the main factory shops in Access Park Kenilworth and a wholesale store in Ndabeni.
Products include:
Beanies
Belts
Gloves
Handbags
Hats
Pashminas
Ponchos
Scarves
Shawls
Wallets
The wholesale store in Ndabeni is a cash only shop and bulk buyers are more than welcome.
Why pay full price at the chain stores when you can get the exact same product at EB Accessories factory outlets for a fraction of the normal price?
Kenilworth store details:
Physical address: Access Park, Chichester Road, Kenilworth, Cape Town
Tel: +27 (0)21 674 1212
Contact: Elizabeth or Amy
Email: kenilworth@ethneb.co.za
Trading hours: Mon-Thu: 09H00 to 17H30; Fri: 09H00 to 16H00; Sat: 08H30 to 17H00; Sun and Non religious pub hols: 09H00 to 15H00
Google map
GPS co-ordinates: -33.988060, 18.489442
Milnerton Store details:
Physical address: Shop BBG10, Sable Square, Bosmansdam Road, Milnerton, Cape Town
Tel: +27 (0)21 555 1107
Email: kuilsriver@ethneb.co.za
Trading hours: Mon - Fri: 09h00 to 17h30; Sat: 09h00 - 15h30; Sun: 09h00 - 14h00
Google map
GPS co-ordinates: -33.881898, 18.509314
Ndabeni wholesale store details:
Physical address: 18 Old Mill Road, Ndabeni, Cape Town
Tel: +27 (0)21 531 0893
Contact: Mavis
Email: info@ethneb.co.za
Trading hours: Tue, Thu and Fri, 1st and last Sunday every month: 10H00 to 16H00
Google map
GPS co-ordinates: -33.931373, 18.498880