The following article was sourced from a Wikipedia page at the following address: http://en.wikipedia.org/wiki/Coat_(clothing)
COATS
A coat is a long garment worn by both men and women, for warmth or fashion. Coats typically have long sleeves and are open down the front, closing by means of buttons, zippers, hook-and-loop fasteners, toggles, a belt, or a combination of some of these. Other possible features include collars and shoulder straps.
ETYMOLOGY
The Persians, based in what is now Iran, introduced two garments to the history of clothing: trousers and seamed fitted coats.
Coat is one of the earliest clothing category words in English, attested as far back as the early Middle Ages.
An early use of coat in English is coat of mail (chainmail), a tunic-like garment of metal rings, usually knee- or mid-calf length.
The medieval and renaissance coat (generally spelled cote by costume historians) is a midlength, sleeved men's outer garment, fitted to the waist and buttoned up the front, with a full skirt in its essentials, not unlike the modern coat.
By the eighteenth century, overcoats had begun to supplant capes and cloaks as outer wear, and by the mid-twentieth century the terms jacket and coat became confused for recent styles; the difference in use is still maintained for older garments.
COATS, JACKETS AND OVERCOATS
In the early nineteenth century, coats were divided into under-coats and overcoats. The term under-coat is now archaic but denoted the fact that the word coat could be both the outermost layer for outdoor wear (overcoat) or the coat worn under that (under-coat). However, the term coat has begun to denote just the overcoat rather than the under-coat. The older usage of the word coat can still be found in the expression "to wear a coat and tie", which does not mean that wearer has on an overcoat. Nor do the terms tailcoat, morning coat or house coat denote types of overcoat. Indeed, an overcoat may be worn over the top of a tailcoat. In tailoring circles, the tailor who makes all types of coats is called a coat maker. Similarly, in American English, the term sports coat is used to denote a type of jacket not worn as outerwear (overcoat) (sports jacket in British English).
The term jacket is a traditional term usually used to refer to a specific type of short under-coat. Typical modern jackets extend only to the upper thigh in length, whereas older coats such as tailcoats are usually of knee length. The modern jacket worn with a suit is traditionally called a lounge coat (or a lounge jacket) in British English and a sack coat in American English. The American English term is rarely used. Traditionally, the majority of men dressed in a coat and tie, although this has become gradually less widespread since the 1960s. Because the basic pattern for the stroller (black jacket worn with striped trousers in British English) and dinner jacket (tuxedo in American English) are the same as lounge coats, tailors traditionally call both of these special types of jackets a coatum.
An overcoat is designed to be worn as the outermost garment worn as outdoor wear; while this use is still maintained in some places, particularly in Britain, elsewhere the term coat is commonly used mainly to denote only the overcoat, and not the under-coat. A topcoat is a slightly shorter overcoat, if any distinction is to be made. Overcoats worn over the top of knee length coats (under-coats) such as frock coats, dress coats, and morning coats are cut to be a little longer than the under-coat so as to completely cover it, as well as being large enough to accommodate the coat underneath.
The length of an overcoat varies: mid-calf being the most frequently found and the default when current fashion isn't concerned with hemlines. Designs vary from knee-length to the ankle length briefly fashionable in the early 1970s and known (to contrast with the usurped mini) as the "maxi".
TYPES OF COATS
Men's coats
Some of these styles are still worn. Note that for this period, only coats of the under-coat variety are listed, and overcoats are excluded.


Justacorps, a seventeenth and eighteenth century knee-length coat, fitted to the waist with flared skirts


Frock coat, a kneelength men's coat of the nineteenth century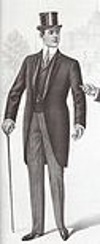 Morning coat or cutaway, a dress coat still worn as formal wear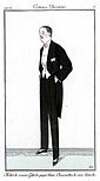 Tailcoat (dress coat in tailor's parlance), a late eighteenth century men's coat preserved in today's white tie and tails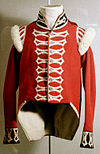 Coatee, an early 19th century military coat, still worn with Highland dress.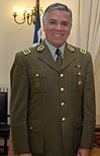 Military tunic, introduced into western armies in the mid-nineteenth century and since widely used with civilian uniforms.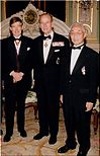 Dinner jacket, a men's semi-formal evening lounge coat.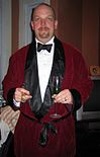 Smoking jacket, a men's jacket worn informally with black tie


Lounge coat or sack coat, a coat which is also a jacket
Women's coats
Basque, a tightly fitted, kneelength women's coat of the 1870s
Spencer, a waistlength, frequently doublebreasted, men's jacket of the 1790s, adopted as a women's fashion from the early nineteenth century
Redingote a type of coat; the name is derived the English "riding coat",
Modern coats
The terms coat and jacket are both used around the world. Modern jackets and coats are used interchangeably as terms.
To read more about coats, please click on the following link: http://en.wikipedia.org/wiki/Coat_(clothing)