The following article was sourced from a Wikipedia page at the following address: http://en.wikipedia.org/wiki/Miniskirt
MINISKIRTS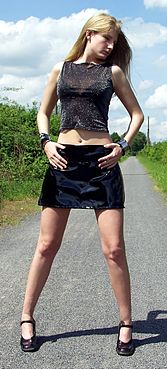 A woman modelling a miniskirt in the early 2000s
A miniskirt (sometimes hyphenated as "mini-skirt") is a skirt with a hemline well above the knees, generally at mid-thigh level, normally no longer than 10 cm (4 in) below the buttocks; and a minidress is a dress with such a hemline. A micro-miniskirt or microskirt is a miniskirt with its hemline at the upper thigh, at or just below crotch level.
The popularity of miniskirts peaked in the "Swinging London" of the 1960s, but it is still commonplace among many women, especially teenagers, preteens, and young adults. Before that time, short skirts were only seen in sport and dance clothing, such as skirts worn by female tennis players, figure skaters, cheerleaders, and dancers.
HISTORY
Until 1960s
The earliest known culture to have females wear clothing resembling miniskirts were the Duan Qun Miao, which literally meant "short skirt Miao" in Chinese. This was in reference to the short miniskirts "that barely cover the buttocks" worn by women of the tribe, and which were "probably shocking" to observers in medieval and early modern times.
During her theatre performances in the Folies Bergère in Paris in 1926, Josephine Baker wore a sort of miniskirt made from bananas.
In the 1950s, they could be seen in the science fiction films Flight to Mars, Devil Girl from Mars and Forbidden Planet.


People in ancient Egypt wearing short wrap skirts, 15th century BC


Greek soldiers sporting the traditional Fustanella, 1878


Marquesans wearing wrap skirts, 1909


Young woman wearing a short-skirted sports dress, 1945


Girls on footbikes in Berlin, 1948


Young woman in Skirtini (right), Naples, 1948
1960s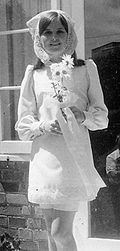 Wedding minidress, 1968
The earliest known reference to the miniskirt is in a humorous 1962 article datelined Mexico City and describing the "mini-skirt" or "Ya-Ya" as a controversial item of clothing that was the latest thing on the production line there. The article characterized the miniskirt as stopping eight inches above the knee. It referred to a writing by a psychiatrist, whose name it did not provide, who had argued that the miniskirt was a youthful protest of international threats to peace. Much of the article described the reactions of men, who were said to favour the fashion on young women to whom they were unrelated, but to oppose it on their own wives and fiancés.
The miniskirt is widely associated with André Courrèges and Mary Quant. Quant had a boutique, Bazaar, in Kings Road, Chelsea, London. In the late 1950s Quant began experimenting with shorter skirts, culminating in the creation of the miniskirt in 1964—one of the defining fashions of the decade. Quant reportedly named the miniskirt after her favourite make of car, the Mini. However, the claim that Quant created the miniskirt has been challenged by others, such as Marit Allen, the contemporary editor of British Vogue's Young Ideas spread. Allen insisted that a British designer, John Bates, rather than Quant or the Parisian André Courrèges, was the true inventor of miniskirts. However, skirts had been getting shorter since the 1950s — a development Quant considered practical and liberating, allowing women the ability to run for a bus.
Quant later said "It was the girls on the King's Road who invented the mini. I was making easy, youthful, simple clothes, in which you could move, in which you could run and jump and we would make them the length the customer wanted. I wore them very short and the customers would say, 'Shorter, shorter.'"
Owing to Quant's position in the heart of fashionable "Swinging London", the miniskirt was able to spread beyond a simple street fashion into a major international trend. The style came into prominence when Jean Shrimpton wore a short white shift dress, made by Colin Rolfe, on 30 October 1965 at Derby Day, first day of the annual Melbourne Cup Carnival in Australia, where it caused a sensation. According to Shrimpton, who claimed that the brevity of the skirt was due mainly to Rolfe's having insufficient material, the ensuing controversy was as much as anything to do with her having dispensed with a hat and gloves, seen as the essential accessories in such conservative society.
The miniskirt was further popularized by André Courrèges who developed it separately and incorporated it into his Mod look, for spring/summer 1965. His miniskirts were less body-hugging, and worn with the white "Courrèges boots" that became a trademark. By introducing the miniskirt into the haute couture of the fashion industry, Courrèges gave it a greater degree of respectability than might otherwise have been expected of a street fashion. An even more prominent French fashion designer, Yves St. Laurent, began to show shorter skirts in his fall/winter 1965 collection, including his famous "Mondrian" dress (inspired by the work of painter Piet Mondrian), a trend that he continued with throughout the 1960s, although he became more famous during this period for introducing the concept of the formal trouser suit for women into haute couture. Paco Rabanne's designs were on the extreme edge of fashion. He introduced a "body jewellery" collection in 1966 that presented short shift dresses constructed from plastic or metal discs or tiles linked with wire or chain. Other 1960s designers worked with easy-care acrylic and polyester fabrics that were becoming popular.
In her book From A to Biba, Barbara Hulanicki provides an alternative explanation for the invention of the mini skirt. Soon after Biba opened on Kensington Church Street in 1966, she received a delivery of skirts made out of stretchy jersey fabric which had shrunk dramatically between leaving the manufacturers and arriving at her shop: '... I nearly had a heart attack. The skirts were only 10 inches long. "God," I thought, "we'll go bust - we'll never be able to sell them." I couldn't sleep, but that little fluted skirt walked out on customers as fast as we could get it onto the hatstands. Fashion designer Rudi Gernreich was among the first U.S. designers to offer miniskirts.
Upper garments, such as rugby shirts, were sometimes adapted as mini-dresses. With the rise in hemlines, the wearing of tights or pantyhose, in place of stockings, became more common. Mary Quant cited this development in defence of the miniskirt:
"In European countries where they ban mini-skirts in the streets and say they're an invitation to rape, they don't understand about stocking tights underneath."
According to an article in the Montreal Gazette, May 28, 1960, page 2, the manager of an unnamed shop in London's Oxford Street began experimenting with skirt hemlines an inch above the knees of window mannequins, and was surprised at how positively his customers responded. Hemlines were just above the knee in 1961, and gradually climbed upward over the next few years. By 1966, some designs had the hem at the upper thigh. Stockings with suspenders were not considered practical with miniskirts and were replaced with coloured tights.
1970s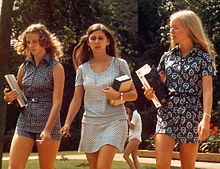 Three American college students in 1973 wearing (left to right) shorts, a miniskirt, and a minidress
During the mid-1970s, the fashion industry largely returned to longer skirts such as the midi and the maxi. Journalist Christopher Booker gave two reasons for this reaction: firstly, that "there was almost nowhere else to go ... the mini-skirts could go no higher"; and secondly, in his view, "dressed up in mini-skirts and shiny PVC macs, given such impersonal names as 'dolly birds', girls had been transformed into throwaway plastic objects". Certainly this lengthening of hemlines coincided with the growth of the feminist movement. However, in the 1960s the mini had been regarded as a symbol of liberation, and it was worn by some, such as Germaine Greer and, in the following decade, Gloria Steinem, who became known for their promotion of women's issues. Greer herself wrote in 1969 that:
"The women kept on dancing while their long skirts crept up, and their girdles dissolved, and their nipples burst through like hyacinth tips and their clothes withered away to the mere wisps and ghosts of draperies to adorn and glorify ..."
Indeed, miniskirts never entirely went away and, for example, were often worn by Deborah Harry, of the group Blondie, during the "new wave" of the late 70s. The song (I Don't Want to Go to) Chelsea (1978), by new wave artist Elvis Costello, contained the line: "There's no place here for the mini-skirt waddle."
1980s and 1990s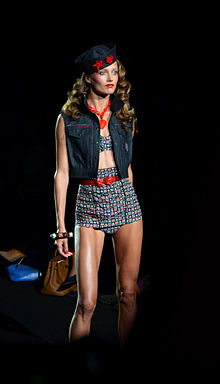 A 2011 Anna Sui micro-mini skirt on model Karmen Pedaru
In spring of 1982, (see June Time Magazine) short skirts began to re-emerge, notably in the form of "rah-rahs", which were modelled on those worn by female cheerleaders at sporting and other events. In the mid-1980s the "puffball" skirt, inspired by Vivienne Westwood's 'mini-crini' designs, enjoyed short term popularity. Many women began to incorporate the miniskirt into their business attire, a trend which grew during the remainder of the century. Films and television series made in the mid-1990s (Melrose Place, Sex and the City, Ally McBeal, for example) show how common the mini had become again. In the BBC TV series Keeping Up Appearances (1990-5) the snobbish Hyacinth Bucket was frequently outraged by the brevity of her sister Rose's skirts.
21st century
Around the turn of the 21st century, hipster trousers became highly fashionable for women. The micro mini or microskirt has been reworked as an even less substantial beltskirt, which is more an evocation of the idea of a skirt than something that covers anything substantial. However, these "microskirts" are rarely worn as streetwear, but for theatrical effect. Miniskirts are also seen worn over trousers or jeans, or with leggings that provide coverage of each leg from above the knee. Although "floaty" skirts were most closely associated with the boho look of mid-decade, short skirts also featured in some outfits, and in London, for example, minis were more widespread during the hot summer of 2006 than for several years before, a trend that continued through the mild autumn and winter.
GALLERY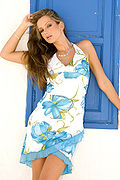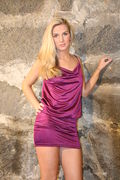 To read more about mini skirts, please click on the following link: http://en.wikipedia.org/wiki/Miniskirt