The following article was sourced from a Wikipedia page at the following address: http://en.wikipedia.org/wiki/Safari_jacket
SAFARI JACKETS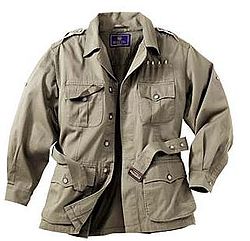 The "Kalahari" Safari Jacket by Beretta
A safari jacket or bush jacket is a garment originally designed for the purpose of going on safari in the African bush. When paired with trousers or shorts, it becomes a safari suit. A safari jacket is commonly a lightweight cotton drill or lighter poplin jacket, traditionally khaki in colour, with a self-belt, often with epaulette style shoulder straps called passants, with four or more expandable bellows pockets.
HISTORY
It is believed that the safari jacket is based on certain British khaki drill military uniforms worn in warm climates. The style was also popularised by turn-of-the-20th century British diaspora adventurers, for whom safari-style jackets were engineered for comfort and function.
Safari jackets have been worn as mainstream casual clothing since the 1950s, when the look was popularised by Ernest Hemingway. Bush jackets are particularly popular with photographers, as their many pockets allow a convenient way to carry film, lenses, flashes and other small photographic equipment.
AUSTRALIA
The safari suit is popularly associated with Australian fashion in the 1970s, when it was worn by the former South Australian Premier Don Dunstan. By 1980, it had gone out of fashion.
INDIA
The safari suit was also widely worn as business attire in India until the late 1990s. Its popularity took off in the 1970s after Reliance Industries set up synthetic fibre plants in India making it affordable to many.
DESIGNERS
Designers associated with the safari jacket/suit look include the French designers Ted Lapidus and Yves Saint Laurent, both of whom are among those credited with inventing and popularising the look.
IN POPULAR CULTURE
Roger Moore's James Bond wore beige safari jackets or bush shirts with matching pants in The Man with the Golden Gun, Moonraker and Octopussy. Also, the safari jacket was a favourite of J. R. Ewing in the 1980s evening soap opera Dallas, where he usually wore it with an ascot. These popular culture icons reinforced the image of this jacket as being worn by rugged outdoors men with money. The Marvel Comics superhero Wonder Man wore a red safari jacket with black pants as his costume for a period of time. In the J.G. Ballard novel High Rise, the character Anthony Royal wears a white safari jacket.
To read more about safari jackets, please click on the following link: http://en.wikipedia.org/wiki/Safari_jacket