The following article was sourced from a Wikipedia page at the following address: http://en.wikipedia.org/wiki/Sportswear_(fashion)
SPORTSWEAR
Sportswear has been called America's main contribution to the history of fashion design, developed to cater to the needs of the increasingly fast-paced lifestyle of American women. The term started out as a fashion industry term describing informal and interchangeable separates (i.e., blouses, shirts, skirts and shorts), and in the 1920s became a popular descriptive term for relaxed, casual wear typically worn for spectator sports. Since the 1930s the term has been used to describe both day and evening fashions of varying degrees of formality that demonstrate this relaxed approach while remaining appropriate wear for many business or social occasions.
The term can also refer to activewear, which is clothing designed specifically for participants in sporting pursuits.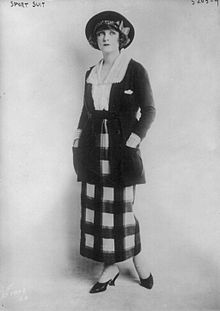 Woman wearing a "sport suit," American, June 1920. Sportswear originally described interchangeable separates, as here.
HISTORY OF SPORTSWEAR DESIGN
The early sportswear designers were associated with ready-to-wear manufacturers, rather than haute couture houses. The clothes were intended to be washable and easy to care for, with accessible practical fastenings to enable the modern, increasingly emancipated woman to dress herself without a maid's assistance. While most fashions in America in the early 20th century were directly copied from Paris, designer sportswear was the exception to this rule, being an entirely home-grown invention.
Pre-1930
Sportswear originally described clothing made specifically for sport. One of the first couturiers to specialise in this was John Redfern who in the 1870s began designing tailored garments for increasingly active women who rode, played tennis, went yachting, and did archery. Redfern's clothes, although intended for specific sporting pursuits, were adopted as everyday wear by his clients, making him probably the first sportswear designer.
Some early 20th century Paris designers such as Coco Chanel created haute couture designs that could be considered sportswear, though they were not exclusively sportswear designers. Chanel promoted her own active, financially independent lifestyle through her relaxed jersey suits and uncluttered dresses. Other designers offering high end sportswear for resort wear included Jean Patou and Elsa Schiaparelli. In contrast to the flexibility of American sportswear, these expensive couture garments were prescribed to be worn in very specific circumstances.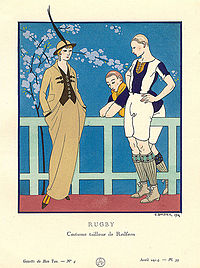 Pre-sportswear tailormade by Redfern. Bon Ton, April 1914.
1930–1970
The precursors of true sportswear emerged in New York before the Second World War. 1930s designers such as Clare Potter and Claire McCardell were among the first American designers to gain name recognition through their innovative clothing designs. Richard Martin described these designers as aiming to produce clothes demonstrating "problem-solving ingenuity and realistic lifestyle applications". McCardell has been called America's greatest sportswear designer. Her simple, practical clothes suited the relaxed American dress code, neither formal nor informal, that became established during the 1930s and 1940s. Sportswear uses elements of sporty informal or casual wear such as Clare Potter's innovative evening sweater and evening skirt draped like a sidesaddle riding habit.
Many of the first sportswear designers were women. A common argument was that female designers projected their personal values into this new style. In the 1930s and 40s, it was rare for clothing to be justified through its practicality. It was traditionally thought that Paris fashion exemplified beauty, and therefore, sportswear required different criteria for assessment. The designer's personal life was therefore linked to their sportswear designs. Another selling point was sportswear's popularity with consumers, with department store representatives such as Dorothy Shaver of Lord & Taylor using sales figures to back up their claims. Martin credits the 1930s and 40s sportswear designers with freeing American fashion from the need to copy Paris couture. Where Paris fashion was traditionally imposed onto the customer regardless of her wishes, American sportswear was democratic, widely available, and encouraged self-expression. The early sportswear designers proved that the creation of original ready-to-wear fashion could be a legitimate design art which responded stylishly to utilitarian requirements.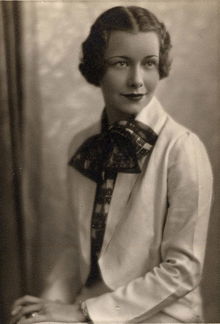 A smart young woman in a lightweight jacket and printed silk blouse. American, 1935.
1970–2000
In the 1970s Geoffrey Beene, one of the first significant male sportswear designers, incorporated elements of menswear into his relaxed women's clothing. His fondness for layering garments and menswear elements are widely used by early 21st century industry designers. In 1970, Bill Blass, whose fashion career began in 1946, founded his own company, Bill Blass Limited. Blass's wearable designs were designed to be worn day and night and he was said to have raised American sportswear to the highest possible level. Like Beene, he introduced menswear touches to his sportswear, which was described as clean, modern and impeccable in style.
Marc Jacobs, who set up his eponymous label in 1986, is renowned for layered informality in both day and luxurious evening wear. Late 20th century sportswear designers with the highest profile include the industry empires of Ralph Lauren, Calvin Klein, Donna Karan, and Tommy Hilfiger, each of whom created distinctive wardrobes for the American woman based upon stylish but wearable, comfortable and interchangeable multi-purpose clothes that combined practicability with luxuriousness. Most early 21st century sportswear design follows in the footsteps of these designers.
Alongside Jacobs, other notable 1980s and 1990s sportswear designers include Isaac Mizrahi, who presented his first collection in 1987. The original Isaac Mizrahi label closed in 1998, and Mizrahi subsequently designed a womenswear diffusion collection for Target from 2002 to 2008.
21st century sportswear
In 2000, the Lifestyle Monitor, an American trade magazine owned by Cotton Incorporated published that their surveys showed that an average of 64% of women interviewed preferred casual wear, including sportswear as distinct from active wear.
Notable New York sportswear designers of the first decade of the 21st century included Zac Posen, Proenza Schouler, Mary Ping, Derek Lam, and Behnaz Sarafpour, who were all featured in the Sportswear section of the Victoria and Albert Museum's New York Fashion Now exhibition in 2007.
Designers who do not typically work in the sportswear tradition such as Monique Lhuillier sometimes incorporate elements of sportswear and activewear into their work. Lhuillier, mainly known for formal gowns, introduced sporty necklines and aerodynamic elements into her collection for New York Fashion Week, Fall 2011.
In 2012 Tim Gunn noted that the boundaries between activewear and fashion sportswear had become increasingly blurred since the 1980s, with many people choosing to wear hoodies, tracksuits, yoga pants, and other garments explicitly associated with athletic wear as everyday dress.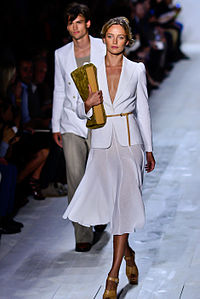 Relaxed easy-wear sportswear by Michael Kors, Spring-Summer 2014.
Other notable sportswear designers
Many 20th and 21st century designers work, or have worked in the sportswear tradition. Some of the most influential American sportswear designers not mentioned above include:
Bonnie Cashin
Liz Claiborne
Kenneth Cole
Perry Ellis
Anne Fogarty
Roy Halston Frowick
Robert Goldworm
Elizabeth Hawes
Norma Kamali
Anne Klein
Vera Maxwell
Isabel Toledo
Diane von Fürstenberg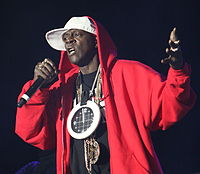 Hoodies and tracksuits became popular items of hip-hop fashion from the 1990s to the 2010s.
OUTSIDE THE UNITED STATES
Italy
In the late 1940s and 1950s non-American designers began to pay attention to sportswear, and attempted to produce collections following its principle. French couturiers such as Dior and Jacques Fath simplified their designs for ready-to-wear production, but at first only the Italian designers understood the sportswear principle. Italy already had a reputation for fine fabrics and excellent workmanship, and the emergence of high quality Italian ready-to-wear that combined this luxury with the casual quality of American sportswear ensured the worldwide success of Italian fashion by the mid-1970s. Designers such as Emilio Pucci and Simonetta Visconti grasped that there was a market for clothing that combined sophistication and comfort. This was a challenge to the American industry. John Fairchild, the outspoken publisher of Women's Wear Daily opined:
"The Italians were the first to make refined sportswear. [...] Americans don't mind spending if the sweater is by Krizia or Missoni."
Before co-founding the business that later became Missoni with his bride Rosita in 1953, Ottavio Missoni, himself an athlete, and his team-mate Giorgio Oberweger had an activewear business in Trieste making wool tracksuits christened Venjulia suits. The success of the Venjulia suits, which took into account the need of athletes for functional, warm garments enabling freedom of movement, led to their being worn by the 1948 Italian Olympics team (which included Missoni himself). In the 1960s Missoni became renowned for their uniquely coloured, mix-and-match knitwear separates based upon activewear, which have remained desirable and fashionable well into the 21st century.
The quality of Italian sportswear was recognized early on by Robert Goldworm, an American sportswear designer who in 1947 joined his New York-based family company Goldworm. Through his second company base in Milan, Goldworm became the first American knitwear designer to take advantage of Italian quality and bring it to the New York market. In 1959 Goldworm, in recognition of his active promotion and support of the Italian knitwear industry, was made a Commander of the Order of the Star of Italian Solidarity by the Italian government.
In the 21st century, Italian fashion remains a leading source for sportswear design outside the United States. Narciso Rodriguez, who is known for streamlined and pared down clothing, launched in Milan in 1997, but moved to New York in 2001. Miuccia Prada revived the fortunes of her family company Prada with her top-quality sportswear designs in the 1990s, and continues designing for the firm.
United Kingdom
Successful British sportswear designers include Stella McCartney, known for her jumpsuits and easy-to-wear separates. McCartney was asked to design the athletic uniforms for the 2012 Summer Olympics, bringing fashionable sportswear design to the world of high-profile activewear.
To read more about sportswear, please click on the following link: http://en.wikipedia.org/wiki/Sportswear_(fashion)