The following article was sourced from a Wikipedia page at the following address: http://en.wikipedia.org/wiki/Skort
SKORTS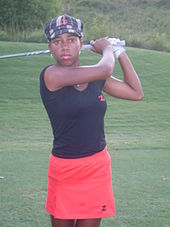 Golfer Zakiya Randall wearing a skort
A skort, sometimes called a scooter or skant, is a pair of shorts with a fabric panel resembling a skirt covering the front.
Some skorts are essentially skirts with a pair of shorts hidden underneath, though most resemble a pair of shorts with a panel of fabric over the front.
HISTORY
The term "skort" (a portmanteau of skirt and shorts) is used idiomatically in some regions. While some garments sold as culottes resemble short trousers, to be a skort they need to look like skirts. They are distinguished from trousers or shorts by a fuller cut at the bottom (hem) than at the waist.
Skorts were developed to provide more freedom to do activities such as sports, gardening, cleaning, or bike riding, and give the appearance of a skirt.
WOMEN'S SPORTS
Skorts are popular in sports such as field hockey, tennis, golf, ten-pin bowling and camogie, and are often part of girls' athletic uniforms.
Women began to play golf in large numbers in the 1960s which led to the development of the famous Leon Levin "Q" skirt or "skort" which offered the freedom of shorts and soft lines of a skirt. The article became an immediate favourite on the Ladies Professional Golf Tour. Professional golfers famously known for wearing skorts are Natalie Gulbis and Paula Creamer.
To read more about skorts, please click on the following link: http://en.wikipedia.org/wiki/Skort