The following article was sourced from a Wikipedia page at the following address: http://en.wikipedia.org/wiki/Khaki
KHAKI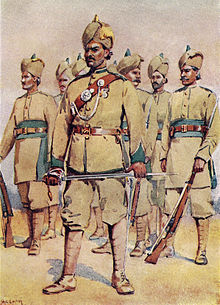 Soldiers of 33rd Punjabis of British Indian Army in khaki
Khaki is a colour, a light shade of yellow-brown. Khaki is a loanword incorporated from Hindustani (Urdu) meaning "soil-coloured" and is originally derived from the Persian: Khâk, literally meaning "soil", which came to English from British India via the British Indian Army.
Khaki has been used by many armies around the world for uniforms, including camouflage. It has been used as a colour name in English since 1848 when it was first introduced as a military uniform (see below), and was called both drab and khaki - khaki being a translation of the English drab light-brown colour. A khaki uniform is often referred to as khakis.
In Western fashion, it is a standard colour for smart casual dress trousers for civilians, which are also often called khakis.
ORIGIN
Khaki was first worn in the Corps of Guides that was raised in December 1846 as the brain-child of Sir Henry Lawrence (1806-1857) Resident at Lahore, and Agent to the Governor-General for the North-West Frontier. Lawrence chose as its commandant Sir Harry Lumsden supported by William Stephen Raikes Hodson as Second-in-Command to begin the process of raising the Corps of Guides for frontier service from British Indian recruits at Peshawar, Punjab. Initially the border troops were dressed in their native costume, which consisted of a smock and white pajama trousers made of a coarse home-spun cotton, and a cotton turban, supplemented by a leather or padded cotton jacket for cold weather. For the first year (1847) no attempt was made at uniformity. Subsequently in 1848 Lumsden and Hodson decided to introduce a drab (khaki) uniform which Hodson commissioned his brother in England to send them – as recorded in Hodson's book of published letters, Twelve Years of a Soldier's Life in India. It was only at a later date, when supplies of drab (khaki) material was unavailable, did they improvise by dying material locally with a dye prepared from the native mazari palm. Some believe the gray drab/khaki color it produced was used historically by Afghan tribals for camouflaging themselves. The mazari could not, however, dye leather jackets and an alternative was sought: Cloth was dyed in mulberry juice which gave a yellowish drab shade. Subsequently all regiments, whether British or Indian, serving in the region had adopted khaki uniforms for active service and summer dress. The original khaki fabric was a closely twilled cloth of linen or cotton.
MILITARY USE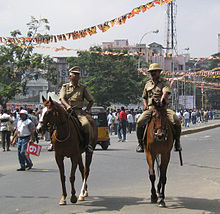 Policemen in India in their khaki-coloured uniform
Khaki-coloured uniforms were used officially by British troops for the first time during the Abyssinian campaign of 1867–68, when Indian troops travelled to Ethiopia (Abyssinia) under the command of general Sir Robert Napier to release some British captives and to "persuade the Abyssinian King Theodore, forcibly if necessary, to mend his ways". Subsequently, the British Army adopted khaki for colonial campaign dress and it was used in the Mahdist War (1884-1889) and Second Boer War (1899–1902).
During the Second Boer War, the British forces became known as Khakis because of their uniforms. After victory in the war the government called an election, which became known as the khaki election, a term used subsequently for elections called to exploit public approval of governments immediately after victories.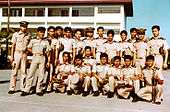 Khaki is a common colour in military uniforms, as on these students from the Philippines Merchant Marine Academy
The United States Army adopted khaki during the Spanish American War (1898). The United States Navy and United States Marine Corps followed suit.
When khaki was adopted for the continental British Service Dress in 1902, the shade chosen had a clearly darker and more green hue. This colour was adopted with minor variations by all the British Empire Armies and the US expeditionary force of World War I, in the latter under the name olive drab. This shade of brown-green remained in use by many countries throughout the two World Wars. Khaki was devised to protect soldiers against the dangers of the industrialized battlefield, where the traditional bright colours and elaborate costumes made them vulnerable to attack. A response to surveillance technologies and smokeless guns, khaki could camouflage soldiers in the field of battle.
USE IN CIVILIAN CLOTHING
The trousers known as "khakis", which became popular following World War II, were initially military-issue khaki twill used in uniforms and were invariably khaki in colour. Today, the term can refer to the fabric and style of trousers based on this older model, also called "chinos", rather than their colour.
To read more about khaki, please click on the following link: http://en.wikipedia.org/wiki/Khaki