The following article was sourced from a Wikipedia page at the following address: http://en.wikipedia.org/wiki/Artificial_leather
ARTIFICIAL LEATHER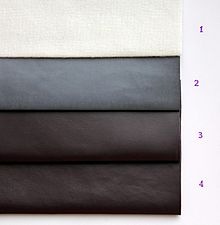 Steps to make synthetic PU leather: 1 = cotton fabric, 2 = coagulation (wet process) onto fabric with aromatic polyurethane in DMF, 3 + 4 = transfer of coating + finish with solvent-borne or water-borne polyurethane formulation
Artificial leather is a fabric or finish intended to substitute for leather in fields such as upholstery, clothing, and fabrics, and other uses where a leather-like finish is required but the actual material is cost-prohibitive, unsuitable, or unusable for ethical reasons.
CLOTHING AND FABRIC USES

Artificial leather cover for mobile phones
Synthetic leathers, at times made from plastics, are often used in clothing and fabrics. Artificial leather is marketed under many names, including "leatherette", "faux leather", and "pleather".
TYPES
Poromeric imitation leather
Sometimes referred to as poromerics, poromeric imitation leathers are a group of synthetic "breathable" leather substitutes made from a plastic coating (usually a polyurethane) on a fibrous base layer (typically a polyester).
The term poromeric was coined by DuPont as a derivative of the terms microporous and polymeric.
Corfam
The first poromeric material was DuPont's ill-fated Corfam introduced in 1963 at the Chicago Shoe Show.
Corfam was the centrepiece of the DuPont pavilion at the 1964 New York World's Fair in New York City. Its major advantages over natural leather were its durability and its high gloss finish that could be easily cleaned with a damp cloth. Its disadvantages were its stiffness which did not lessen with wearing, its relative lack of breathability, and easy confusion with non-breathable cheaper products. DuPont manufactured Corfam at its plant in Old Hickory, Tennessee, from 1964 to 1971. After spending millions of dollars marketing the product to shoe manufacturers, DuPont withdrew Corfam from the market in 1971 and sold the rights to a company in Poland.
Corfam is still used today in some products, an example being certain types of equestrian saddle girth. Corfam shoes are still popular in uniformed professions where shiny shoes are desirable.
Koskin
Koskin is an artificial leather material commonly found in computer laptop cases.
Koskin is very similar to the Swedish (koskinn) and Danish (koskind) words for cowhide/leather, which could cause much confusion for consumers.
Leatherette
Leatherette is a form of artificial leather, usually made by covering a fabric base with plastic. The fabric can be made of a natural or a synthetic fibre which is then covered with a soft PVC layer.
Leatherette bound books and 20th century cameras are good examples of leatherette.
Leatherette clothing of various kinds (including lingerie) also exist.
A disadvantage of plastic "leatherette" is that it is not porous and does not allow air to pass through it; thus, sweat can accumulate if it is used for clothing, car seat coverings, etc. One of its primary advantages, especially in cars, is that it requires little maintenance in comparison to leather, and does not crack or fade easily.
During a fire, leatherette may cause serious skin damage, because it burns more vigorously than leather and can melt.
Brand names
Biothane: a proprietary material of BioThane Coated Webbing, made from a nylon webbing coated with TPU or PVC, designed to look and feel like leather, but be more durable, more cleanable, and more waterproof than leather.
Birkibuc: a proprietary material of Birkenstock, made from vinyl and polyamide felt fibres and intended to imitate nubuck leather
Birko-Flor: a proprietary material of Birkenstock, made from vinyl and polyamide felt fibres and intended to imitate patent leather
Clarino: used in sports, gloves, automotive, upholstery, fashion, etc.
Kydex: an acrylic-PVC alloy produced by Kleerdex
Lorica: a material patented and manufactured by Lorica Sud, an Italian tannery
Naugahyde
Rexine: a British proprietary brand of leathercloth used in vehicle trimming and bookbinding.
Vegetan: a shop-owned trade name for one grade of microfibre
Fabrikoid: a DuPont brand, cotton cloth coated with nitrocellulose
Other materials
Some other materials that can be used in the production of leather alternatives are:
Polyvinyl chloride (PVC): Also known as vinyl
CRITICISM
With a few exceptions, most leather alternatives ('vegan leathers') have been criticised for not being environmentally friendly.
To read more about artificial leather, please click on the following link: http://en.wikipedia.org/wiki/Artificial_leather