The following article was sourced from a Wikipedia page at the following address:
http://en.wikipedia.org/wiki/Lunch_meat
LUNCH MEAT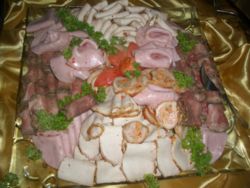 A tray of assorted lunch meats
Lunch meats—also known as Cold cuts, luncheon meats, sandwich meats, cooked meats, sliced meats, cold meats, and deli meats—are precooked or cured meat, often sausages or meat loaves, that are sliced and served cold or hot on sandwiches or on party trays. They can be bought pre-sliced in vacuum packs at a supermarket or grocery store, or they can be purchased at a delicatessen or deli counter, where they might be sliced to order.
HEALTH
Most pre-sliced lunch meats are higher in fat, nitrates, and sodium than those that are sliced to order, as a larger exposed surface requires stronger preservatives.
SAFETY
The US Centres for Disease Control and Prevention advises that those over 50 reheat lunch meats to "steaming hot" 165 °F (74 °C) and use them within four days.
REGIONAL DIFFERENCES
Commonwealth countries
In Commonwealth countries, luncheon meat specifically refers to products that can include mechanically reclaimed meat and offal. In these countries, the terms cold meats, cooked meats, deli meats or sliced meats are used instead.
Latin America
The Spanish word for lunch meat, fiambre, is also used in street slang to refer to a dead body (more common in Chile and Argentina), because of the word used to express low temperatures of the bodies. In Brazil, the Portuguese for ham "presunto" is also used with the same meaning.
In Guatemala, a lunch meat is a traditional dish eaten in November. It is eaten the first and second day of the month to celebrate "El día de Todos los Santos" (All Saints' Day) and "El día de Todos los Difuntos" (All Souls' Day). There are two types: red and white.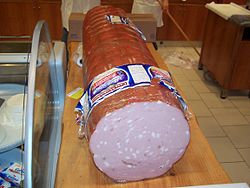 Mortadella, a common deli meat that originated in Italy
TYPES
Bresaola
Capicola (coppa)
Chicken breast
Chicken loaf (also known as chicken roll)
Corned beef
Cotechino
Dutch Loaf
Ham

Baked
Boiled
Chipped chopped
Cooked
Éisleker
Jamón: serrano or ibérico.
Prosciutto
Smoked

Head cheese
Salceson
Ham & cheese loaf
Olive loaf
Pepper loaf
Pimento loaf
Spiced luncheon loaf
Veal loaf
Meatloaf
Mortadella
Pork roll
Roast beef
Roast pork
Salami
Alpino
Capicola
Finocchiona
Italian-style
Jewish-style
Pepperoni
Bierwurst or beerwurst
Blood tongue (Zungenwurst)
Bologna, Polony
Braunschweiger
Brühwurst
Mettwurst
Chorizo
Devon
Gelbwurst
Jagdwurst
Krakowska (Kraków-style pork sausage)
Liverwurst
Pastrami
Prasky
Saucisson sec (dry, maturing, salty, savoury-tasting French salami)
Summer sausage
Thuringian sausage
Teewurst
Soppressata
Sausages
Smoked meat
Tongue
Turkey breast
To read more about cold meats, please click on the following link:
http://en.wikipedia.org/wiki/Lunch_meat