The following article was sourced from a Wikipedia page at the following address: http://en.wikipedia.org/wiki/Tiara
TIARAS
A tiara is a form of crown. There are two possible types of crown that this word can refer to.
Traditionally, the word "tiara" refers to a high crown, often with the shape of a cylinder narrowed at its top, made of fabric or leather, and richly ornamented. It was used by the kings and emperors of some ancient peoples in Anatolia and Mesopotamia, notably the Hittites. The Assyrians and the inhabitants of the Indus Valley Civilization used to include a pair of bull horns as a decoration and symbol of authority and a circle of short feathers surrounding the tiara's top. The Iranian tiara (Tarok) was more similar to a truncated cone, without the horns and feathers but more jewels, and a conic-shaped tip at its top.
PAPAL TIARA
In the Roman Catholic Church, the Papal tiara is a high cap surrounded by three crowns and bearing a globe surmounted by a cross worn by the Pope during certain ceremonies, being the symbol of his authority. Since Pope Paul VI set aside his tiara after the Second Vatican Council, the Papal Tiara has not been worn. Pope Benedict XVI even removed the tiara from his coat of arms, replacing it with a mitre (but with some symbolic reference to the symbolism of the tiara, still in use in the Holy See's coat of arms).
ROYAL TIARAS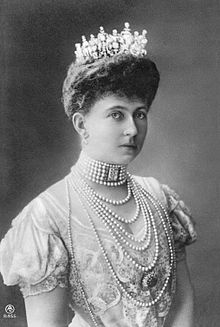 Sophia of Prussia wearing a tiara
While the Papal tiara is a type of crown, tiaras as a type of an adornment not indicating any specific rank are regularly worn by royal and noble ladies; they are merely pieces of jewelry and can be worn by anyone even though they are most commonly associated with royalty. Queen Elizabeth II is said to have the largest and most valuable collection of tiaras in the world, many of which are heirlooms of the British Royal Family. She is often seen wearing them on state occasions. Her personal collection of tiaras is considered to be priceless. The Queen received many of them through inheritance, especially from Queen Alexandra. Queen Mary, consort of King George V, purchased the Grand Duchess Vladimir tiara in the 1920s. It consists of numerous interlocking diamond circles. Pearl drops can be attached inside the circles or emeralds. Queen Mary had a tiara made for the Delhi Durbar held in 1911 in India. It is now on loan for wearing by the Duchess of Cornwall, wife of Charles, Prince of Wales. Queen Elizabeth II commissioned a ruby and diamond tiara. A gift of aquamarines she received as a present from the people of Brazil were added to diamonds to make a new tiara.
Other queens, empresses and princesses regularly wear tiaras at formal evening occasions. The Swedish Royal Family have a magnificent collection as do the Danish, the Dutch, and Spanish monarchies. Many of the Danish royal jewels originally came into the collection when Princess Louise of Sweden married the future King Frederick VIII of Denmark. The Romanov dynasty had a superb collection up until the revolution of 1917. The Iranian royal family also had a large collection of tiaras. Since the Iranian Revolution they are housed at the National Jewellery Museum in Tehran.
Other tiaras
Kokoshnik is part of the traditional Russian headdress, similar to the Ukrainian vinok and ochipok.
Although usually associated with women of reigning and noble families, tiaras have been worn by commoners as well, especially rich American socialites like Barbara Hutton. Tiaras are generally a semi-circular or circular band, usually of precious metal, decorated with jewels and are worn as a form of adornment. (On rare occasions, usually when the actual tiara is exceptionally old and valuable due to its history, gemstones and previous ownership, realistic copies may be made and worn in place of the original due to insurance considerations.) Tiaras are worn by women around their head or on the forehead as a circlet on very formal or high social occasions. Tiaras are frequently used to "crown" the winners of beauty pageants.
Tiaras are common jewellery in Indian weddings. In other countries the wedding dress is often accompanied by a tiara as well.
During the Victorian Age in the United States, tiaras were being seen on non-royal ladies of means.
"In Paris great aigrette balls were organized by aristocrate families who were proud of their name and their past, such as Dutcesse de Gramount with her 'Crinoline Ball' and Princess Jacques de Broglie with her 'Gemstone Ball' of 1914. In distant New York, Philadelphia an Newport on the other hand, Mrs. William Astor, Mrs. George J. Gould, Mrs. W.K. Vanderbilt and Eva (Mrs. Edward) Stotesbury entertained with a degree of magnificence which made European balls appear almost insignificant. The moneyed classes of the United States, who had originally raised themselves above their bourgeois origins through their own hard work, set out to rival the historical aristocracy of Europe. In friendly competition with her rivals, the well-to-do American women refused to forgo any of the attributes sanctioned by society. These accessories included country houses imported from Europe complete with ancestral portraits and furnishings, as well as tiaras order from Cartier's in Paris and later New York." – Cartier By Hans Nadelhoffer
By the 1920s, the tiara and similar tiara headbands became popular in the United States. They were worn not only with formal ballroom gowns, but became popular with the flappers and their parties.
"The 1920s was a period when milliners used their imagination to embrace aspects of dress from nations far and wide. Inspiration was sought from Egypt, China, Japan and Russia. Headdresses including turbans, toques, kokoshniks and tiaras were all reinvented by designers."
FICTION
Superheroines Wonder Woman and Sailor Moon are usually depicted wearing a tiara; both tiaras can be thrown as weapons. All the other Sailor Senshi wear tiaras as well. The fictional character Isis wears a tiara decorated with the horned sun symbol of Hathor. Fictional tiaras are often worn over the forehead, instead of on top of the head as they are traditionally pictured.
Princesses in fiction also commonly wear tiaras. She-Ra, who is both a superhero and a princess, wears a golden tiara.
GALLERY


Tiara of the duchesse d'Angoulême, Paris 1814 (Louvre)


Contestants in a beauty pageant wear tiaras. 21st century


Russian Empress in kokoshnik, 19th century


Katie Green wearing a wedding tiara


Empress Elisabeth of Austria in 1867
To read more about tiaras, please click on the following link: http://en.wikipedia.org/wiki/Tiara