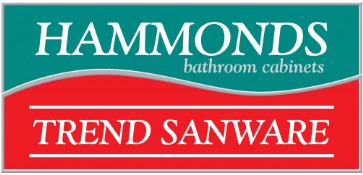 Hammonds Bathroom Cabinets and Trend-Sanware are manufacturers and importers of top quality bathroom cabinets and sanitary ware (toilets and basins).
Our factory shop gives the public the opportunity to purchase top quality items at a massive discount to the usual retail prices.
Items on sale in the factory shop consist of end of range and discontinued lines, returns and a few B grade items (small flaws or scratches).
We supply many of the top retail plumbing chains in the Western Cape.
Should goods need to be couriered out of the Cape Town area, we request that purchasers arrange for their own courier services.
Our cabinets are locally produced in Cape Town, and our sanitary ware is imported.
Majority of our cabinets are manufactured from MDF (better known as Supawood). MDF stands for Medium Density Fibre. The board is very dense and ideal for the use in bathrooms. To get the desired colour of your cabinet we "laminate" the board with a PVC wrap, using Heat and Vacuum to glue the PVC to the board. Once the PVC wrap is glued to the board the cabinet is 'Splash Proof', ideal for bathroom conditions.
We have limited stock of some spray painted (imported cabinets), and melamine cabinets. You are welcome to enquire with our sales staff which cabinets are PVC wrap, melamine or spray painted.
Your cabinet should be installed by a registered plumber.
We stock both resin and porcelain basins.
The advantages of Resin Basins
- The basins are perfectly straight
- Modern look
- Light scratches can be buffet out
The advantages of Porcelain Basins
- They do not scratch
- They do not discolour
- Easy to clean
The stock in the factory shop is always changing and customers can always expect the greatest bargains here.
Images below depict a wide range of standard stock, some of which may or may not be available in the factory shop at any time.