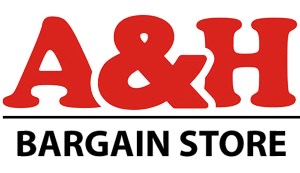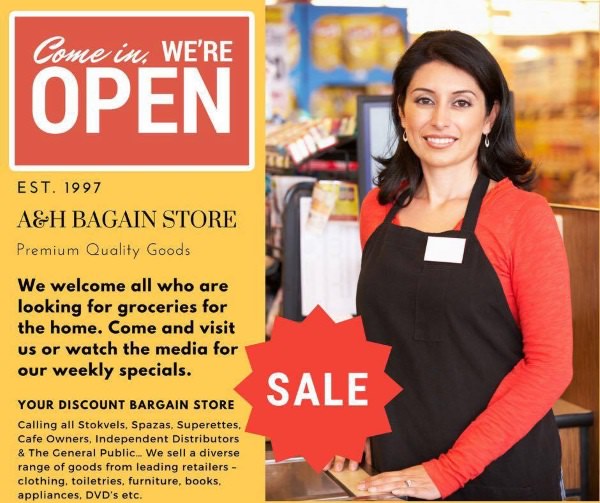 Let us introduce ourselves
Calling all Stokvels, Spazas, Superettes, Cafe Owners, Independent Distributors & the General Public… We sell a diverse range of goods from leading retailers – clothing, toiletries, furniture, books, appliances, DVD's etc.
A PLACE TO SHOP, A PLACE TO BUY
How it all came to be…
We have been trading for over, twenty years. We are based in Athlone. We welcome all who are looking for groceries for the home, shopkeepers and bulk buyers. Come and visit us or watch the media for our weekly specials.
At A&H Bargain Store Factory Shop, we sell a massive range of dry groceries. Here you will find many hundreds of branded products as you will find in the normal supermarket, but at greatly reduced prices. All items are 'salvaged" and are of top quality and most products are well before expiry dates.
The vast food product range includes:
Baby foods
Baking ingredients
Biscuits
Cereals
Chocolates
Coffees
Jams
Juices
Milks
Pastas
Pet foods
Rice
Sauces and condiments
Soups (tinned and packets)
Spices
Sugars
Sweets
Teas
Tinned foods
Plus much, much more.
The vast toiletries, personal hygiene and beauty product range includes:
Air fresheners
Bathroom products
Body lotions and creams
Dental care products
Feminine hygiene products
Hair care products
Liquid soaps
Nappies
Shaving products
Skin care products
Sprays
Toilet papers
Plus much, much more.

Here we guarantee that you will save a huge amount of money on your monthly food shopping budget!