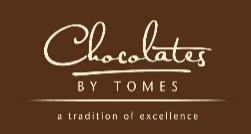 Chocolates by Tomes is a manufacturer, wholesaler and retailer of premium chocolates, confectionery and baked goods. We have been in business for 10 years and make some of South Africa's finest chocolate.
We make our premium chocolate from raw cocoa ingredients sourced solely from the African continent, renowned for its cocoa beans. We conch the chocolate for a minimum of 48 hours so that it is smooth and full of flavour.
We use our chocolate to handcraft our delicious chocolate confectionery and our famous mini brownies. Our biscuits and cakes are all smothered in our chocolate.
We also craft our own nougat and fudge.
We have a shop at the V&A Waterfront and supply top South African hotels with turn down chocolates. We also supply bakeries and chocolatiers in Cape Town, Johannesburg and Harare.
The Factory Shop sells all our products at discounted prices straight from the factory. Wholesale orders are welcome.
Products are halaal, excepting for the truffles, which contain small amounts of alcohol.