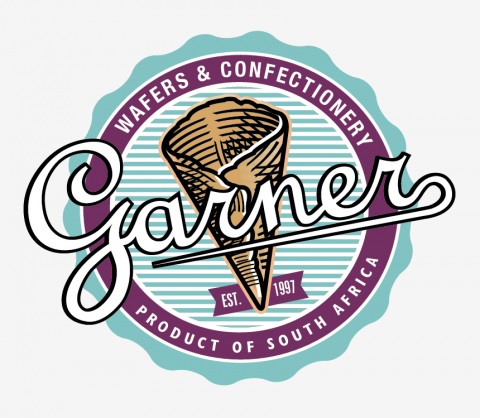 Garner-Wafers are a manufacturer of quality sugar cones, wafers, sweet confectionery items, ice cream coatings, waffles and many other tasty treats.
We provide sweet treats to the public and the foodservice industry alike. Sugar cones & wafers, waffles, ice cream, sauces, ice cream coatings, milk shake syrups, sweets, confectionery toppings & crumbles, ready to serve frozen desserts, Luv-u-lots bite size icies.
Garner Wafers was established in 1997 mainly as a sugar cone manufacturer. Over the past few years via word of mouth and hard work Garner Wafers has increased its product base from not only sugar cones, but also sweet confectionery products, chocolate coating lines and waffles. We are Halaal accredited. Through our sister company Frankly Fantastic Foodstuff, we also manufacture frozen ice cream desserts.
Garner Wafers is owned by Elsabe Hoal and Shaheed Hendricks who is very passionate about their business and the 60 plus people working in this company. We try to innovate for all of our customers to give them a competitive edge in the market. "We innovate with the sugar on top."
Prices in our factory shops are +/- 50% cheaper than normal retail prices and products consist of overruns, returns from major retailers, etc. All products (besides a few "rejects") are 100% as good as to be found in major national retail stores. ABSOLUTE VALUE FOR MONEY IS EXPERIENCED IN OUR FACTORY SHOPS!
The product range is vast and includes:
NEW! Luv-u-Lots Bite-Size Icies
These convenient sachets contain a bite-size portion of flavoured frozen dessert. A convenient sweet snack on the go, simply tear open the corner, squeeze and enjoy! Available in five yummy flavours - Vanilla, Strawberry, Chocolate, Bubblegum and Toffee.
Sugar Cones & Wafers
Garner Wafers manufactures a wide variety of sugar wafer products. The range includes traditional-style sugar cones (available in mini, small, medium and large sizes), wafer cups, sticks, round discs and fans - perfect for adding something special to your sweet dessert offering. Our wafer products are not just for ice-cream lovers, we also have savoury cones. Please contact us for our full product pricing and our product offerings available in bulk.
Waffles
Our waffles are golden, light and fluffy. Ideal dessert or breakfast treat. Serve them warm with a dab of butter and maple syrup OR a scoop of ice cream and a decadent sauce. An ideal menu option for the winter season.
Ice Cream Coatings
These ice cream coatings are specially designed to harden into a cap when poured over ice cream. Drizzle it over the top of your favourite frozen dessert or dip the entire ice cream cone into it! Gives that characteristic "crack!". Selected flavours available direct to the public in 250mL bottles. Available to the food industry in 1kg up to 25kg buckets.
Toppings
Our Confectionery Department makes a variety of sprinkles, toppings and crumbles that can be used to flavour and decorate your desserts. These can be used to create unique flavour combinations – chocolate, mint, fudge, strawberry, cookies, nuts, honeycomb, caramel... Scroll through our extensive product list.
Fruit Sauces
Filled to the brim with whole fruit, these sauces can be used as toppings and compôtes accompanying any sweet treat. Berries are grown on a fruit farm in Stellenbosch and then made into sauces on site by the local farm women. Local is lekker! Berry sauces: Raspberry, Strawberry, Trio of Berries, Blueberry, Blackberry Other: Apple Crumble Fruit Topping
Sauces, Syrups & Flavours
Add something special to your dessert with our range of Garner sauces and syrups which are handmade in our Confectionery Department. Our flavours can be used to create new ice cream sensations and can be used in baking and confectionery.
Sweets
Garner Wafers repacks a variety of sweets at sells them at attractive prices, to be used as toppings on your desserts - let your customers choose what they like from a colourful selection! Allowing you to add value and interest to your ice cream counter or bar.
Ready to Serve Frozen Desserts
Entertaining in style couldn't be easier! Our range of decadent ready-to-eat frozen desserts includes ice cream cakes, mini ice cream cones and ice cream sandwiches. Simply remove from the box, place on a platter and serve to your guests. Perfect for everyone - families, parties, get-togethers and special events. Also ideal for restaurants, coffee shops, hotels, institutions etc. Available direct to the public in selected Spar and Checkers stores nationwide.
Retail Products
Garner Wafer products are sold in selected Retail stores throughout the country. Retail products include: waffles, wafer cones, cups, tubes, wafer fans and the entire ready to serve frozen dessert range.
Frankly Fantastic Foodstuff Range
Our Sister Company Frankly Fantastic manufacture a range of ice creams that is sold in small tubs to 5 litre Cater tubs. As we also explore our versatility in this company we manufacture also a range of Diabetic Flavours made with Agave Sugar, Sorbets and other delectable flavours like Butternut and Cinnamon. Our ice creams are made using the best ingredients only and we have our normal range up to Double Cream ranges. It is really excellent.
Odds & Ends
Garner Wafers also sells a variety of items that can be used for serving ice cream.
Directions to Epping shop:
GPS Coordinates: -33.936998, 18.561628
Google map

Directions to Killarney Gardens shop:
GPS Coordinates: -33.827453, 18.534760
Google map