KOMATI FOODS is a family-run business specialising in the sourcing, preparation and packaging of superior healthy snacks. Supporting a healthy lifestyle and promoting wellness is at the core of what we do.
Our mission is to combine quality and freshness to deliver the very best products at competitive prices. Each item is ethically and sustainably sourced and held to the highest standards to ensure choice results. Our trained staff hand pick and pack each order guaranteeing freshness and quality from factory to purchase, while our daily roasting promises the ultimate taste experience.
We offer secure and convenient online shopping via our website.
FREE Delivery for orders over R500 in Cape Town.
All national orders have a delivery fee of R140.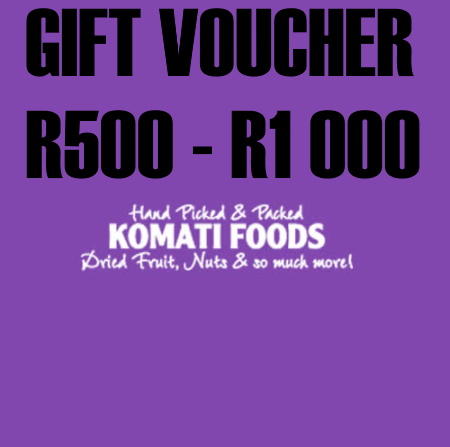 Looking for a superb value added gift that someone will absolutely love - get them a Komati Foods Gift Voucher - the gift that gives!

Our product range is vast and includes:
Breakfast Cereals
Granolas
Mueslis
Oats (Rolled, Gluten Free, Whole, Oatbran, Organic)
Baking Ingredients
Baker's Mix
Baking Powder
Sodium Bicarbonate
Cake Mix
Carob Powder
Cocoa Nibs
Cocoa Powder
Coconut Desiccated
Xanthan Gum

Carob
Carob Almonds
Carob Bananas
Carob Cashew Clusters
Carob Chunks
Carob Coconut Clusters
Carob Dates
Carob Gojiberries Clusters
Carob Ginger
Carob Mango
Carob Peanut Clusters
Carob Pear
Carob Powder
Carob Raisin Clusters
Carob Bars (Large and Mini)

Dried Fruits
Apple Rings
Apricot Kernels – Medicinal (Contains Cyanide)
Apricots
Apricots Turkish (Sweet Malatyas)
Banana Chips
Banana Strips
Cherries Sour
Coconut Desiccated
Coconut Flaked Toasted
Coconut Flakes
Cranberries
Cranberries – Juice Infused
Currants
Dates
Figs Turkish
Fruit Dainties
Fruit Fingers
Ginger Chunks
Ginger Slices
Goji Berries
Guava
Kiwi Fruit Slices
Kumquat Sugared
Mango Strips
Mebos Regular And Sugar
Mixed Fruit
Nectarines
No Sugar Added Fruit Shapes
No Sugar Added Sour Worms
Peaches Choice Elberta
Peaches Peeled
Pears
Pineapple
Pomegranate Arils
Prunes Choice
Prunes Pitted
Raisins Jumbo
Raisins Medium
Raisins Stalk Choice
Special Fruit Mix
Strawberry Dried
Sultanas Golden
Sundried Tomato
Tropical Mix (Banana/Guava/Mango)

Drinkables
Buchu
Coffee Beans
Hibiscus
Honey Bush
Rooibos
Flours
Almond Flour
Buckwheat Flour
Chickpea Flour
Coconut Flour
Eureka Mills Brown Flour
Eureka Mills White Flour
Eureka Mills Wholewheat Flour
Gluten Free All-Purpose Flour
Gluten Free Self-Raising Flour
Gluten Powder
Hemp Powder
Linseed Flour
Oat Flour
Peanut Flour
Potato Flour
Psyllium Husk Powder
Rice Flour Brown
Rice Flour White
Rye Flour
Sorghum Flour
Spelt Flour
Tapioca Flour (Gluten Free)
Teff Flour
Yellow Pea Protein (80%)
Fruit Rolls
Large and Small

Glace Fruit
Fruit Mince
Ginger Chunks
Ginger Slices
Glace Apricot
Glace Cherries
Glace Fig
Glace Fruit Mix
Glace Ginger
Glace Melon
Glace Orange
Glace Pears
Glace Pineapple Rings
Kiwi Cubes
Mixed Peel
Papaya Cubes
Pineapple Cubes
Strawberry Cubes
Nut Butters
Nut Butter Almond
Nut Butter Cashew
Nut Butter Hazelnut
Nut Butter Macadamia
Nut Butter Peanut Smooth
Nut Butter Peanut Crunchy
Nut Butter Pecan
Nut Butter Pistachio
Nuts
Almond Cashew Combo Raw
Almond Cashew Combo Roasted No Salt
Almond Cashew Combo Roasted Salt
Almond CSSR Raw
Almond White Only (Candy)
Almonds Blanched
Almonds Broken
Almonds Flaked
Almonds Pink and White
Almonds Raw NPS
Almonds Roasted and Salted
Almonds Roasted Plain
Almonds Slivered
Brazil Nuts
Candy Peanuts
Caramel Almonds
Caramel Cashews
Caramel Salted Peanut
Carob Almonds
Cashew Jumbo Raw
Cashew Jumbo Roasted and Salted
Cashews Peri Peri W2320
Cashews Pieces Raw
Cashews Raw W320
Cashews Roasted and Salted W320
Cashews Roasted Plain W320
Eureka Roasted and Salted
Hazel Blanched
Hazel Raw
Hazels Roasted
Macadamia Roasted and Salted
Macadamias Raw
Macadamias Roasted No Salt
Mixed Nuts Raw
Mixed Nuts Roasted Plain
Mixed Nuts Roasted Salted
Monkey Nuts (Peanuts In Shell)
Nut Selection
Peanuts and Raisins
Peanuts Giant Peri-Peri
Peanuts Giant Raw
Peanuts Giant Roasted Salted
Peanuts Giants Roasted Plain
Pecan Pieces
Pecan Raw
Pecans Roasted
Pine Nuts
Pistachios in Shell Roasted/Salted
Pistachios Natural Roasted/Salted
Pistachios Out of Shell – Raw
Real Nut Mix Roasted No Salt
Redskins Raw
Redskins Roasted Plain
Redskins Roasted Salted
Sesame Coated Caramelised Peanut
Walnut Pieces
Walnuts
Yogurt Cashews
Oat Ball Recipe Combos
Almond and Cranberry Oat Balls
Peanut Butter and Choc Chip Oat Balls
Peanut Butter and Hemp Seed Oat Balls
Organic Products
Organic Adzuki Beans
Organic Amaranth
Organic Apricots
Organic Barley Flakes
Organic Black Beans
Organic Borlotti Beans
Organic Brown Sugar
Organic Buckwheat
Organic Bulgar Wheat
Organic Ceylon Cinnamon
Organic Chickpeas
Organic Cocoa
Organic Cous Cous
Organic Dates
Organic Lentils Brown
Organic Linseed
Organic Millet
Organic Mung Beans
Organic Oat Flour
Organic Oat Kernels
Organic Oatbran
Organic Oats Rolled
Organic Pearled Barley
Organic Polenta
Organic Popcorn Kernels
Organic Poppy Seeds
Organic Pumpkin Seeds
Organic Raisins
Organic Red Kidney Beans
Organic Red Lentils
Organic Rice Basmati Brown
Organic Rice Basmati White
Organic Rice Jasmine Brown
Organic Rice Jasmine White
Organic Rice Long Grain Brown
Organic Rice Short Grain Brown
Organic Rye Kernels
Organic Sesame Seeds
Organic Soya Beans
Organic Spelt [Hulled]
Organic Spelt Flakes
Organic Spelt Flour
Organic Spelt Kernels
Organic Sunflower Seeds
Organic Tumeric
Organic Wheat Bran
Organic Wheat Flour
Organic Wheat Kernels
Organic White Kidney Beans
Seeds / Grains
Alfalfa Seeds
Amaranth
Black Beans
Black Cumin Seeds (Nigella Sativa)
Black Eye Beans
Buckwheat
Bulgar Wheat
Chia Seeds
Chickpeas
Cous Cous
Cous Cous Pearled
Cous Cous Wholewheat
Health Seed Mix
Hemp Seeds Hulled
Kidney Beans White
Lentils Brown
Lentils Green
Lentils Puy French
Lentils Red
Linseed
Linseed Golden
Mung Beans
Mustard Seeds
Pearled Barley
Peas Green
Polenta
Poppy Seeds
Pumpkin Seeds
Pumpkin Seeds Salted In Shell
Quinoa - Regular
Quinoa Black
Quinoa Red
Rice Black
Rice Brown Basmati
Rice Health
Rice Jasmine
Rice Short Grain Brown
Rice Sushi
Rye Whole
Sago
Samp And Beans
Sesame Seeds Black
Sesame Seeds White
Slimmix
Sorghum Red
Soup Mix
Soy Roasted Mixed Seeds
Soy Roasted Pumpkin Seeds
Soy Roasted Sunflower Seeds
Spelt Grain
Sugar Beans
Sunflower Seeds
Sunflower Seeds Salted In Shell
Tapioca Pearls
Teff grain
Snack Mixes
Artsource Mix
Autumn Crunch
Berry Tropical Mix
Brainy Mix
Breakfast Mix
Caramel Mix
Corn – Salted
Corn – Chutney
Crackles
Cran Cashew Mix
Cran-Mac Mix
Deluxe Mix
Energy Booster
Fiesta Fun
Fruity Nut Mix
Health Seed Mix
Jungle Mix
Lockdown Level 1 Snacking
Magic Mix
Multivitamin Mix
Munchy Mix
Peanut Chocolate Snack
Pretzel Shapes
Pretzel Sticks
Rodeo Mix
Slimmix
Tropical Mix
Very Berry Mix
Wasabi Peanuts
Wasabi Peas
Wasabi Wow
Yogurt Mixed Nuts
Spices
All Spice Fine
All Spice Whole
Aniseed Fine
Aniseed Whole
Basil Rubbed
Bay Leaves
Black Cumin Seeds (Nigella Sativa)
Black pepper coarse
Black Pepper Corns Whole
Black Pepper Ground
Caraway Ground
Caraway Seeds
Cardamom Fine
Cardamom Pods
Cayenne Pepper Fine
Celery Seeds
Chili Flakes
Chili Powder
Cinnamon Ground
Cinnamon quills
Cloves Fine
Cloves Whole
Coriander Fine
Coriander whole
Cumin powder
Cumin whole
Dill Seeds
Fennel Ground
Fennel Seeds
Fenugreek Fine
Fenugreek Seeds
Garlic Powder
Garlic Roasted Flakes
Gharam Masala
Ginger Ground
Himalayan Salt Coarse
Himalayan Salt Fine
Juniper Berries
Mixed Herbs
Mixed Spice Fine
Mustard Seeds Brown
Mustard Seeds Yellow
Nutmeg Fine
Nutmeg Whole
Onion Flakes
Onion Powder
Origanum
Paprika
Parsley
Pink Peppercorns Whole
Rosemary
Saffron
Smoked Paprika
Star Aniseed Whole
Sumac
Tarragon
Thyme Rubbed
Tumeric
Vanilla Extract - 50ml bottle.
Vanilla Paste - 50ml
Vanilla Pod
Zatar
Sugar Alternatives
Bee's Choice
Coconut Sugar
Date Syrup
Erythritol
Fructose
Maple Syrup
Xylitol
Sulphur Free Products
Apple Sulphur Free
Apricots Sulphur Free
Blueberries Sulphur Free
Cranberries Sulphur Free
Cranberries – Juice Infused
Lemon – Sulphur Free
Mandarin Slices Sulphur Free
Mango Sulphur Free
Naartjie Bites Sulphur Free
Orange Slices Sulphur Free
Peach – Sulphur Free
Plum Sulphur Free

Superfoods
Hemp Seeds
Maca Powder
Moringa Powder
Nutritional Yeast
Raw Cacao Powder
Spirulina Powder
Sweets
Almond White Only (Candy)
Almonds Pink and White
Candy & Chocolate Coated Sunflower Seeds
Candy Coated Fennel Seeds
Candy Peanuts
Caramelised Popcorn
Choc Astros CADBURY
Chocolate Almonds
Chocolate Buttons [Smarties]
Chocolate Chips
Chocolate Coated Chickpeas Dark
Chocolate Eggs
Chocolate Peanuts
Chocolate Raisins
Chocolate Shortcake
Chocolate Whispers
Fruit Salad Sweets
Jelly Babies
Jelly Beans
Large Carob Bars
Messages Sweets
Mini Carob Bars
No Sugar added Fruit Shapes
No Sugar added Sour Worms
Peanut Brittle
Wine Gums
Yoghurt Products
Mini Yogurt Slab
Yogurt Almonds
Yogurt Apple Rings
Yogurt Banana
Yogurt Cashews
Yogurt Cranberry
Yogurt Dates
Yogurt Ginger
Yogurt Mango
Yogurt Mixed Nuts
Yogurt Peanuts
Yogurt Raisins
Yogurt Sunflower Seed Cluster