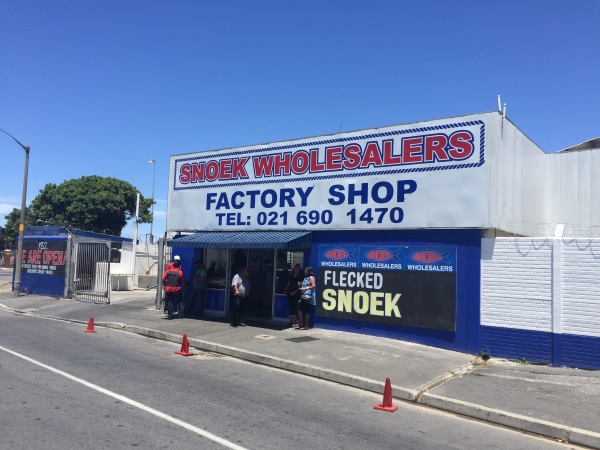 Established since 1964, Snoek Wholesalers has been synonymous with the fishing industry in the Western Cape.
Snoek Wholesalers was registered as a company in 1964 and its connections with the Cape fishing industry stretch back to the early years of this century.
In that bygone era, the day's catch was collected at the quayside, in horse drawn carts.
Snoek Wholesalers was started as a family business and remains one to this day, fiercely resisting the temptation to become a public company.
Although it continually updates the technology processing and packaging in its modern factory, its family traditions ensure a continuity of personal service which has become its hallmark.
As the name implies, Snoek wholesalers was originally involved in the smoking of snoek. Today however, its activities have expanded to embrace all aspects of South Africa's fishing industry, with a wide variety of products, fresh frozen and smoked.
The company imports and exports fish, molluscs and crustaceans.
Snoek Wholesalers deep roots in the fishing industry, its long experience, its tradition of
personal service and its reliable record as a distributor and source of supply have firmly established its unquestionable reputation.
The product range is wide and includes many types of fresh, frozen and smoked seafood, including:
• Snoek
• Smoked Snoek
• Calamari
• Crab sticks and crab meat
• Hake
• Langoustines
• Haddock and smoked haddock
• Crumbed chicken schnitzels, burgers, fingers and pops
• Fish cakes
• Tilapia
• Grey mullet
• John Dory
• Gurnards
• Jacopewer
• Prawns
• Yellowtail
• Kingklip
• Pickled fish

Plus a wide range of other seafood delicacies that come and go daily.
Not only do you find the largest variety of quality seafood products at Snoek Wholesalers Factory Shop, but also a wide range of best quality frozen chicken products.
All at true factory shop prices, for the individual, reseller or caterer.
Products include:
Chicken crumbed pops
Chicken sticks
Chicken nuggets crumbed
Chicken burgers crumbed
Chicken pops crumbed
Chicken steaklets crumbed
Chicken crumbed fingers
Chicken crumbed sticks
Chicken leg quarters
Fishrite Du Noon
Address: Shop 9, The Stables, Potsdam Road, Du Noon
Opening hours: Mon to Fri: 09H00 - 18H00;<br>Sat: 09H00 - 16H00;<br>Sun:09H00 - 14H00.
Tel: 27 (0)79 886 5785
Google map
GPS Coordinates: -33.810764, 18.540747
Fishrite Stellenbosch
Address: 234 Bird street, Stellenbosch, Western Cape, South Africa
Opening hours: Mon to Fri: 08H00 - 18H00;<br>Sat: 08H00 - 16H00;<br>Sun:09H00 - 14H00
Tel: 079 886 5785 / 066 071 7272
Google map
GPS Coordinates: -33.923684, 18.855021