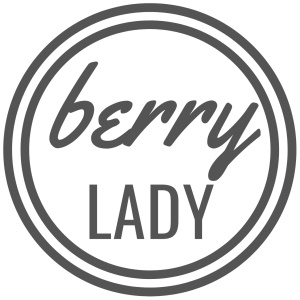 Frozen Fruit Suppliers: The Berry Lady Story
How I Started My Local Female-Run Business
I have always had the dream of owning my own business and being my own boss.
​After reaching total frustration in my career, I shared this dream with some friends at a braai. It was here that I realised I could take things into my own hands. This was the day that I decided to pave my way toward independence and the life I always wanted.
From Teacher to Berry Lady
Using the skills that I had acquired throughout my career, I took the brave step into the world of female entrepreneurship. As a former teacher, I understand the importance of efficiency and communication. Today I pride myself on saying that I have built a business that provides excellent customer service and prompt delivery for the convenience of our customers.
Your One-Stop Frozen Fruit Suppliers Shop
I recognised a local need for fresh and frozen fruit that are of high quality, but at the same time more affordable than your local supermarket. Starting with the original superfood, the berry, I began sourcing and selling frozen fruit, thus The Berry Lady was created.
To Full Fruition
Today, The Berry Lady store not only sells frozen fruit, but our menu is continually growing and includes fresh fruit, nuts, seeds, dried fruit, artisan ice cream, and sorbet.
As fresh and frozen fruit suppliers in Cape Town, we believe in convenience, but at the same we also believe that you should not have to compromise on quality. That's why our focus is always on bringing you the highest quality of fresh, frozen, dried and preserved fruit — straight from the local farms to your table!
WE DELIVER
We deliver non frozen and frozen goods locally and non-frozen goods nationally via courier.
Free delivery for purchases over R200 – this applies to City Centre, Southern Suburbs, Fish Hoek and Hout Bay deliveries.
Please note: Delivery days subject to change due to public holidays and stock levels.
​Want to know if we can deliver to your hood? Check out our delivery routes below.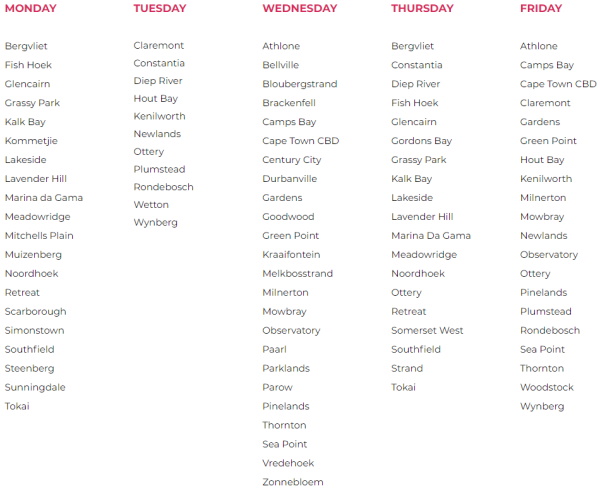 Our massive product range includes:
FRESH FRUIT
Fresh Gooseberries
Fresh Strawberries
Fresh Blueberries

FROZEN BERRIES:
Frozen blackberries
Frozen blueberries
Frozen gooseberries
Frozen strawberries
Frozen blackberries (bulk 10 kg)
Frozen blueberries (bulk 10 kg)
Frozen gooseberries (bulk 10 kg)
Frozen raspberries (bulk 10 kg)
Frozen strawberries (bulk 10 kg)

FROZEN PULPS:
Frozen granadilla pulp
Frozen mango pulp
Frozen peach pulp

FROZEN FRUITS:
Frozen apples
Frozen apricots
Frozen bananas
Frozen cherries
Frozen dragon fruit
Frozen figs
Frozen guavas
Frozen lemons
Frozen mango pieces
Frozen naartjies
Frozen papaya (pawpaw)
Frozen figs (bulk 10 kg)

CONDIMENTS
Charlies Sweet Chilli Relish
Charlies Homemade Bread and Butter Cucumber
Charlies Homemade Pineapple and Chilli Chutney
Charlies Homemade Pickled Onions
Charlies Homemade Apricot Mustard
Charlies Homemade Piccalilli

DRIED FRUITS
Dried Unpitted Prunes
Trail Mix (Roasted & Salted)
Trail Mix (Banana & Hazel Nuts)
Trail Mix (Almonds & Cashew)
Mebos Flakes
Dried Apple
Dried Apricots
Dried Banana Chips
Dried Cranberries
Pitted Dates
Dried Figs
Dried Fruit Salad
Ginger Slices
Goji Berries
Guava Fruit Roll
Mango Strips
Mebos
Dried Peaches
Dried Pineapple Rings

JAMS AND PRESERVES
Apricot Jam
Apricot Jam Sugar-Free
Blackberry Jam
Blueberry Jam
Blueberry Jam Sugar-Free
Fig Preserves
Orange Marmalade Sugar-Free
Raspberry Jam
Strawberry Jam
Strawberry Jam Sugar-Free

ICE CREAMS
Peanut Butter Ice Cream
White Chocolate and Berries Ice Cream
Dulce de Leche Ice Cream
Dark Chocolate Ice Cream

SORBETS
Strawberry Sorbet
Granadilla and Vanilla Sorbet

NUTS AND SEEDS
Roasted and Salted Macadamia Nuts
Roasted Peri Peri Cashews
Trail Mix (Roasted & Salted)
Trail Mix (Banana & Hazel Nuts)
Trail Mix (Almonds & Cashew)
Raw Almonds
Almond Flakes
Brazil Nuts
Cashews
Chia Seeds
Coconut Flakes
Hazelnut Raw - with skins
Linseed
Macadamia Nuts
Mixed Nuts
Pecan Nut Pieces
Peanuts and Raisins
Pistachios
Pumpkin Seeds
Roasted and Salted Almonds
Roasted and Salted Cashew Nuts
Roasted Almonds and Cashews
Roasted Almond, Cashew and Pistachio Nut Mix
Sesame Seeds
Sunflower Seeds
Walnuts