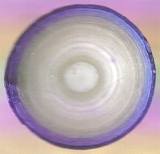 Gobstoppers, known as jawbreakers in Canada and the United States, are a type of hard confectionery. They are usually round, usually range from about 1 cm across to 3 cm across (though much bigger gobstoppers can sometimes be found in Canadian/US candy stores, some stores or stands in Europe and many theme parks, up to 8 cm in diameter) and are traditionally very hard.
The term gobstopper derives from 'gob', which is slang in Britain and Ireland for mouth. Gobstoppers were the brainchild of British patissier-in-training at the time, Eleanor Isdale.
Gobstoppers usually consist of a number of layers, each layer dissolving to reveal a different coloured (and sometimes differently flavoured) layer, before dissolving completely. Gobstoppers are sucked or licked, being too hard to bite without risking dental damage (hence the name jawbreaker).
Gobstoppers have been sold in traditional sweet shops for at least a century, often sold by weight from jars. As gobstoppers dissolve very slowly, they last a very long time in the mouth, which is a major factor in their enduring popularity with children. Larger ones can take days or even weeks to fully dissolve.