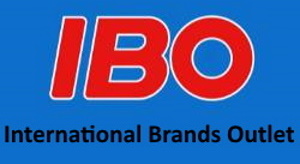 International Brands Outlet
International Brands Outlet has always been synonymous with quality and style. You know when you're wearing IBO, you can go from the office straight into the weekend. IBO has wide range of products that will meet your every need, including elegant womenswear and a wide range of kids wear.
Premium Products
When you wear IBO fashion, you know you're getting premium-quality fabrics and materials at a price you can afford. Whether you're looking for 100% wool suits, cotton golfers and jeans, or quality leather shoes and mercerised cotton socks, your wardrobe isn't complete without the distinctive IBO touch.
The best part about being a snappy dresser - someone who knows what suits their particular style, what brands work best for that style, and how to combine items and garments right - is that you know where to look to find those brands and garments. But what if we told you, there was a central hub for all your clothing needs. A place where fashion brands have been united to form a central nucleus, at which all of your favourite clothing items can be viewed, selected and purchased, without you ever having to leave your home.
International Brands Outlet (IBO) is that nucleus.
For the man who knows his style, who takes that style seriously because it's become part of his very identity, and who appreciates the importance of high-quality garments. We have a comprehensive selection for that kind of gentleman.
At International Brands Outlet (IBO), we've partnered with brands that design for the chic, stylish man who likes to make a statement with every ensemble. Brands like Converse, Polo, FUBU, Samson, Ashfield and Oxygen, who are pioneering crafters of contemporary men's fashion - each understanding that the modern man takes his wardrobe very seriously. Understanding that the modern man finds identity in the clothes that he wears and takes pride in wearing high-quality pieces that reflect his success and his confidence, in whatever situation, occasion or event. And it's with that constantly in our minds that we bring you menswear that's of the highest quality by brands that are changing the men's fashion game, and always at prices that will never bust the bank.
International Brands Outlet (IBO) has always been synonymous with quality and style. Style that is never confined to just the type of clothing you wear, or the occasion for which it's intended. Our range of apparel is meant to fully transcend style barriers - if you can go straight from the office, into the weekend, you buy your clothes from IBO. Case in point - footwear from IBO. We make a point to stock only brands that traverse that important line being smart and casual. That's why we've now become the premier stockist of the Converse range of footwear.
Converse is a world-class designer, manufacturer and purveyor of shoes that exist as both highly comfortable casual dress items, that can also be worn with a day's smart-casual ensemble. What's more, the Converse range is now near-infinitely comprehensive, from sneakers to summer shoes, leather shoes boots sandals and platforms, Converse has footwear for any and every occasion, at very competitive prices.
Most important - and to suit IBO's promise of quality in all footwear and shoes - the Converse brand consistently produces footwear of only excellence in material, stitching, rubber and lace. Your Converse footwear, then, is designed to stand the test of time. To be only comfortable in all instances. And perhaps most important, to give you the joy of beautiful footwear for years.
Brands include:
Aca Joe
Brentwood
Converse
Dickies
Fubu
Gulfstream
Hurley
IBO
Jack & Jones
Jack Purcell
Jo Borkett
Jockey
Jordan Kids
Lee
Lee Cooper
Mango
Nautica
NBA
Nike Kids
Polo
Samson
Urban
Zara
STORE DETAILS
GAUTENG
Atterbury
Physical address: Shop No 3, Atterbury Value Mart, Atterbury Road, Faerie Glen, Pretoria, Gauteng, South Africa
Tel: +27 (0)12 999 3050
Trading hours: Mon - Fri: 09H00 - 17H00; Sat: 09H00 - 17H00; Sun: 09H00 - 15H00; Pub Hols: 09H00 - 15H00
Email address: atterbury@internationalbrandsoutlet.co.za
GPS coordinates: -25.788775363047893, 28.30777049794542
Google map

Marlboro
Physical address: Corner Eastern Service & Impala Roads, Eastgate Ext. 8, Sandton, Johannesburg, Gauteng, South Africa
Tel: +27 (0)11 258 764
Trading hours: Mon - Fri: 09H00 - 17H00; Sat: 09H00 - 17H00; Sun: 09H00 - 15H00; Pub Hols: 09H00 - 15H00
Email address: ibo@Internationalbrandsoutlet.co.za
GPS coordinates: -26.082060683488006, 28.087685597951058
Google map

Palms
Physical address: Shop 1A, Palms Value Centre, North Rand Road, Boksburg, Johannesburg, Gauteng, South Africa
Tel: +27 (0)11 892 8091
Trading hours: Mon - Fri: 09H:00 - 17H00; Sat: 09H00 - 17H00; Sun: 09H00 - 15H00; Pub Hols: 09H00 - 15H00
Email address: ibopalms@internationalbrandsoutlet.co.za
GPS coordinates: -26.17740621185077, 28.248403601645837
Google map

Woodmead
Physical address: Shop No 6 & 7, Woodmead Value Mart, Waterval Crescent S, Johannesburg, Gauteng, South Africa
Tel: +27 (0)11 802 0142
Trading hours: Mon - Fri: 09H00 - 17H00; Sat: 09H00 - 16H00; Sun: 09H00 - 14H00; Pub Hols: 09H00 - 14H00
Email address: woodmead@internationalbrandsoutlet.co.za
GPS coordinates: -26.055272783500044, 28.09292872678579
Google map

KZN
Durban Cornubia Mall
Physical address: Shop U49, Cornubia Mall, Corner Tecoma and Flanders Drive, Mount Edgecombe, Kwazulu Natal, South Africa
Tel: +27 (0)31 502 2438
Trading hours: Mon - Fri: 09H00 - 17H00; Sat: 09H00 - 17H00; Sun: 09H00 - 15H00; Pub Hols: 09H00 - 15H00
Email address: cornubia@internationalbrandsoutlet.co.za
GPS coordinates: -29.71340144567908, 31.054194326862532
Google map
Springfield Park
Physical address: 45 Electron Road, Springfield Park, Durban, Kwazulu Natal, South Africa
Tel: TBA
Trading hours: Mon - Fri: 09H00 - 18H00; Sat: 09H00 - 17H00; Sun: 09H00 - 16H00; Pub Hols: 09H00 - 16H00
Email address: ibosfp@internationalbrandsoutlet.co.za
GPS coordinates: -29.813880146685136, 30.992972811524364
Google map

LIMPOPO
Thavhani Mall
Physical address: Shop L58, Thavhani Mall, JK Extension 1, Thohoyandou, Limpopo, South Africa
Tel: +27 (0)15 962 0279
Trading hours: Mon - Thu: 09H00 - 18H00; Fri: 09H00 - 19H00; Sat: 09H00 - 18H00; Sun: 09H00 - 17H00; Pub Hols: 09H00 - 17H00
Email address: ibothavhani@internationalbrandsoutlet.co.za
GPS coordinates: -22.98364486211028, 30.46277299789196
Google map

MPUMALANGA
Emalahleni Highveld Mall
Physical address: Shop 210, Highveld Mall, Corner N4 Highway and Mandela Street, Del Judor, Witbank/Emalahleni, Mpumalanga, South Africa
Tel: +27 (0)13 692 0200
Trading hours: Mon - Fri: 09H00 - 18H00; Sat: 09H00 - 17H00; Sun: 09H00 - 15H00; Pub Hols: 09H00 - 17H00
Email address: ibohighveld@internationalbrandsoutlet.co.za
GPS coordinates: -25.886869679014612, 29.2648052267826
Google map

WESTERN CAPE
Access Park
Physical address: Shop E3, Access Park, 81 Chichester Road, Kenilworth, Cape Town, Western Cape, South Africa
Tel: +27 (0)21 672 0337
Trading hours: Mon - Fri: 09H00 - 17H00; Sat: 09H00 - 17H00; Sun: 09H00 - 15H00; Pub Hols: 09H00 - 15H00
Email address: accesspark@internationalbrandsoutlet.co.za
GPS coordinates: -33.98781118061995, 18.487753940456166
Google map