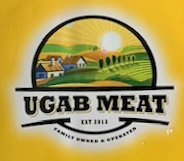 Ugab Meat is a family owned butchery and meat processing plant in Cape Town. The business is named after the Ugab River, a river in Namibia. Their factory and processing plant in Stikland has been delivering quality meat products to the major supermarket chains and the public for many decades.

The two Ugab Meat Factory Shops offer the public the opportunity to purchase these quality products at much reduced prices. All products are frozen and of the highest quality. Prices are substantially cheaper than those found at the leading supermarkets.
The speciality products of this business are the crumbed chicken products that are stocked by major supermarket chains. These include:
Crumbed Chicken Nuggets
Crumbed Chicken Strips
Crumbed Chicken Spicy Strips
Crumbed Chicken Burgers
Crumbed Chicken Fingers
Crumbed Cheesy Chicken Balls
A selection of meaty bones is also always available.
Meats include pork, beef, chicken, meaty bones, bacon and lamb.
A selection of frozen vegetables, seafoods and pastry type products are also available.
Both shops offer ample parking.
For massive savings on your family frozen foods budget, be sure to visit your nearest Ugab Meat Factory Shop today. No frills, no fuss, just good old fashioned savings.
Directions to Milnerton store:
GPS: -33.870247730482824, 18.50512796232113
Google map
Directions to Stikland store:
GPS: -33.90726706512987, 18.655009378310517
Google map