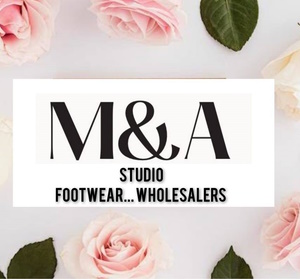 M&A Studios Footwear Wholesalers was established in 2015, selling scarves and wedding décor. Over many years of hard work, this husband-and-wife dynamic duo have now become the largest independent wholesalers and distributors of shoes in the Western Cape.
Massive deliveries of shoes are made regularly from factories to the M&A warehouse. These shoes are then sent on to other shoe retailers or shoe factory shops for resale. The shoes at M&A Studios are thus coming from the original distributor and cannot be beaten in price.
ALL shoes are manufactured in South Africa and there are NO foreign imports. All leather shoes being sold are 100% genuine leather or suede leather.
Shoes can be purchased from the retail outlet in Grabouw or shoes can be couriered throughout South Africa by a number of professional courier companies retained by M&A Studios. Courier deliveries are made daily. M&A Studios will courier anything from one pair to many thousands of pairs. No order is too big or too small.
New styles are being brought in regularly and are for men, women and kids, with the emphasis skewed towards women's shoes. Ladies sizes range from sizes 3 – 8.
Shoes include:
Boots
Sandals
Slippers
Veldskoens
Mary Janes
Frankensteins
Baby Dolls
Plus so much more.
M&A Studios are specialists in bulk sales. Bulk is defined as 6 pairs or more of the same item. We supply a massive number of shoe retailers daily with their stock. We are always actively looking for more resellers across South Africa.
New arrivals are constantly being advertised on the M&A Facebook page and at www.safactoryshops.co.za.
We look forward to having you as another happy customer!
Directions to Bredasdorp store
GPS coordinates: -34.535548818616554, 20.047132184645378
Google map
PLEASE CLICK HERE TO VIEW OUR WHATSAPP CATALOGUE
JOIN OUR GROUP FOR UPDATES CLICK ON LINK BELOW TO JOIN​​​​​​​https://chat.whatsapp.com/D22nCtuA8JV1d1A4jjXAxI