The following article was sourced from a Wikipedia page at the following address: http://en.wikipedia.org/wiki/Curtain
CURTAINS
A curtain (sometimes known as a drape, mainly in the United States) is a piece of cloth intended to block or obscure light, or drafts, or water in the case of a shower curtain. A curtain is also the movable screen or drape in a theatre that separates the stage from the auditorium or that serves as a backdrop.
CURTAINS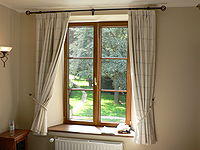 Curtains at a bed and breakfast
Although the words curtain and drape are commonly used interchangeably, drapes distinguish themselves by containing lining sewn or attached onto the reverse side of the fabric.; otherwise in en-UK called a lined curtain. The purpose of the lining is to protect drapes and interior spaces from damaging ultraviolet (UV) rays (UV lining), the rotting of silks, adverse light conditions (dim-out and blackout lining), and fading coloured dyes. Linings also provide an immediate aesthetic purpose by adding to the drapeability of the fabric; added weight helps to anchor the drape and creates a more full and luxurious window treatment. Unlike windows with drapes, windows with curtains lack the added benefit of light control and will exhibit a striping effect during daylight hours. Striping is a term that describes a visible striped effect caused by uneven light distribution between the areas of the curtain where it rests in front of the window juxtaposed with where it rests in front of the wall.
Curtains hung over a doorway are known as portières. Curtains are often hung on the inside of a building's windows to block the passage of light, for instance at night to aid sleeping, or to stop light from escaping outside the building (stopping people outside from being able to see inside, often for privacy reasons). In this application, they are also known as "draperies". Curtains come in a variety of shapes, materials, sizes, colours and patterns, and they often have their own sections within department stores, while some shops are completely dedicated to selling curtains.
Curtains vary according to cleanability, ultraviolet light deterioration, oil and dust retention, noise absorption, fire resistance, and life span. Curtains may be moved by hand, with cords, by press-button pads or remote-controlled computers. Measuring the curtain size needed for each window varies greatly according to the type of curtain needed, window size, and type and weight of curtain.
An adaptation of the curtain may be a window blind or, in warmer countries, a wooden window shutter that is fixed to the outside of the building to provide privacy and still keep the building cool inside. Curtains are a form of window treatment, and complete the overall appearance of the house. Window treatment helps control the ambiance and flow of natural light into the room. The effect of drapery or curtains is best seen in daylight, and with proper indoor light positioning, can look attractive even at night.
ETYMOLOGY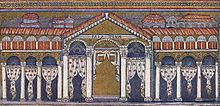 Byzantine curtains in the Basilica of Sant'Apollinare Nuovo, Ravenna, Italy (6th century AD)
The word 'curtain' comes from Middle English cortine, from Old French, from Late Latin cortina and from Latin cors, cort-.
HISTORY
From evidence found in excavation sites at Olynthus, Pompeii and Herculaneum, portieres appear to have been used as room dividers in classic antiquity. Mosaics from the 2nd to 6th century show curtains suspended from rods spanning arches.
LIGHT CONTROL AND INSULATION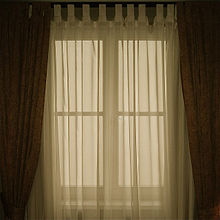 Translucent curtains hung on a window
Curtains are manufactured from a variety of thick fabrics, each with a differing degree of light absorption and heat insulating qualities. For maximum temperature control, the curtain gap to the window should be small, with minimum convection drafts below or above the curtain. Various architectural structures around the curtain can minimize these air drafts, but usually they are just used for decoration and make rooms feel more cosy.
A sheer or net curtain is one that is made from translucent fabric, such as a loosely woven polyester voile or a cotton lace. Sheer curtains allow a majority of light to be transmitted through the fabric, with the fabric weave providing a basic level of UV protection while retaining maximum visibility outward through the curtain. Sheer curtains are sometimes referred to as "privacy curtains" in reference to their screening abilities; during the day most sheer fabrics will allow people inside the home to see the outside view while preventing people outside the home from seeing directly into the home. Due to the loose weave in sheer fabrics, these types of curtains offer very little in the way of heat insulation.
Uncoated fabrics provide the next level of heat insulation and light absorption. Uncoated fabrics constitute the vast majority of fabrics used in curtains, and are composed of a tightly woven fabric, most typically a cotton/polyester blend, which is mostly opaque when viewed in ambient light. Uncoated fabrics provide a reasonable level of heat insulation due to the tight weave of the fabric. However, the fabric itself is typically not thick enough to completely absorb strong light sources. As a result, when curtains made from uncoated fabrics are closed in an attempt to block out direct sunlight, light will still be visible through the curtain.
Coated fabrics consist of a standard uncoated fabric with an opaque rubber backing applied to the rear of the fabric to provide improved light absorption. To create a coated fabric, a liquefied rubber polymer is applied in a single coat to an uncoated fabric and subsequently fused dry by means of a heated roller, in much the same way that a laser printer applies toner to a sheet of paper before fusing it dry. A fabric that has been through the coating process once is considered a "1-pass-coated" fabric, anecdotally referred to as "dim-out" or "blackout" because of the fabric's ability to absorb approximately 50-70% of a direct light source. To improve the light absorption of a fabric it is possible to re-coat a fabric up to a maximum of "3-pass-coated", which is considered sufficient to block out 100% of a direct light source, hence such fabrics are referred to as "blockout-coated".
Maximum light absorption and heat insulation in a curtain is created through a lined curtain, which typically consists of an uncoated fabric at the front to provide the look and feel of the curtain, with a separate coated fabric attached at the rear to provide the insulative qualities. The coated fabric is typically referred to as a lining, which simply refers to a coated fabric that does not have any particular colour or pattern.
Curtains may be held back with tie-backs (a loop of cloth, cord, etc., placed around a curtain to hold it open to one side; typically passed through a ring on a hook attached to the wall, and fastened with a knot, button, or velcro; often adorned with tassels) or may be closed and opened with sticks called draw-pulls (rods made of plastic, wood, or metal that can be twisted and/or pulled) or curtain rods which are attached either to the runner or to the first hook. On some curtain rails/poles, there is a pulley system for opening and closing called a "corded curtain track". The knobs at the end of these cords are called cord pulls or "acorns". A roll-down or drop-down curtain has its fabric rolled around the curtain rod and is lowered down from above by a separate device (such as pictured at right) or by pulling the fabric itself, with curtains using the latter mechanism being called pull-down curtains.
A curtain hook stopper is a device used to stop the curtain from falling off the end of the curtain rail.
COMMERCIAL TYPES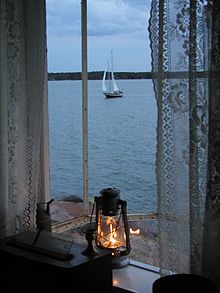 Curtains in a window opening to the sea
With the increase in single family homes during the last century, the curtain and drapery industries have witnessed simultaneous growth in the demand for their products. Commercial interests also grew during that time as many companies tried to supply institutions, hotels, etc. Pre-made curtain are sold in "panels" in stores, typically of around 7 feet in length. Cubicle Curtains are a popular choice in hospitals and medical facilities for privacy.
Commercial sized curtains are commonly used in restaurants, cinemas, and theatre stages.
STYLES
Curtains are among the first details which add a dramatic focal point when you enter a room, there are nearly twenty different styles of curtains and draperies which can be used in window treatment. Flat panel curtains are the easiest and the versatile curtains, where just pieces of fabric are boarded on all four edges and hung from the decorating curtains poles with a clip-on rings. The look is strongly influenced by the fullness of the curtains being used. Tab Top curtains were made with narrow straps, that loop or tie at the top edge, which are threaded through poles for curtains. This curtain style is often designed as two stationary panels at the sides of a window. Grommet Curtains are the type of curtains where the rings are inserted into a hole hem which hangs from the curtain poles. These curtains can be made with small grommet as well as large grommets. Sash curtains are mostly sheer fabric material used to cover the lower sash of the windows Rod Pocket are the stylish and easy to sew curtains, where stitched pocket at the top of the curtain is shirred onto a curtain rod. Thermal or Blackout curtains use very tightly woven fabric, usually in multiple layer. They not only block the lights, but also serves as an acoustic controller.
The fabrics used make the difference to the curtains style. When working with any of these types of curtain styles, ensure to measure the windows dimension and determine the length of the curtain.
GALLERY
Different curtains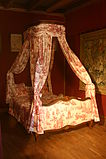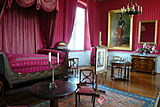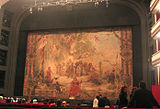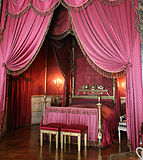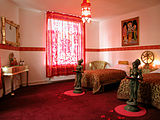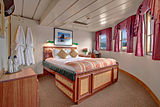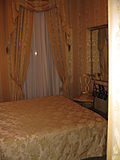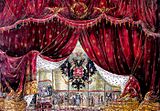 Main curtain used as a backdrop at a movie theatre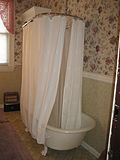 Tub with curtain at the Bernheimer House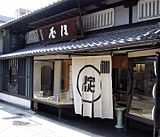 Noren (Japanese curtain) at an onsen
To read more about curtains, please lick on the following link: http://en.wikipedia.org/wiki/Curtain