The following article was sourced from a Wikipedia page at the following address: http://en.wikipedia.org/wiki/Yoga_mat
YOGA MATS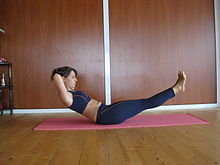 A woman practising navasana on a Yoga mat
Yoga mats are specially fabricated mats used as an aid during the practice of hatha yoga to prevent hands and feet slipping during asana practice. They are also commonly known as non-slip mats, non-skid mats or sticky mats.
HISTORY
Ancient yoga practice in India was originally conducted on kusha grass, on hard earth without any cover, or on a rug of deer or tiger skin. Due to the scarcity and cost of such rugs, they are now rarely used even in India.
With yoga's introduction in the West, many practitioners used towels or cotton mats on wooden floors. Rubber mats were introduced as an intermediate material to prevent cotton mats from slipping on wooden floors. Slipping of hands and feet was avoided by squirting a mist of water on the mats on the respective places of positions.
In 1982, while teaching yoga in Germany, Angela Farmer used carpet underlay cut to towel size during yoga classes; later she returned home to London with the material. Angela's father, Richard Farmer, contacted the German padding manufacturer and became the first retailer of "sticky mats".
The first purpose-made yoga mat was manufactured and sold by Hugger Mugger Yoga Products in the 1990s. In 2002, the first 'eco-conscious' mat was manufactured by EcoYoga and sold through Yogamatters in Britain.
Yoga mats increasingly fulfil the purpose of reducing risk of injury and some insurance companies require yoga practice to be executed with a non-slip mat in order to be eligible for coverage.
TYPES
Dimensions
Yoga mats are normally around 72" / 182 cm long and have a width of 24" / 60 cm. Some practitioners prefer extra-wide mats (30" / 78 cm) for positions such as Surya Namaskar or hand-balances. Yoga mats range in thicknesses from 2 mm (lightweight) to 4–5 mm (standard or "classic") and up to 7 mm for either high performance mats reserved for professional daily practices while guaranteeing little wear-out, or soft mats providing extra cushioning during yoga therapy.
Aesthetics
Yoga mats are available in many colours and patterns. "Alignment mats" are printed with guides to proper alignment. Some companies print custom images on mats. Other items used to complement yoga mats are belts, blocks and bricks,
MATERIAL
The first commercially produced yoga mats were made from PVC. The first 'eco-conscious'-labelled mats were made from natural jute and rubber. Higher-priced PVC mats are tested as Oeko-Tex certification AZO and 'DOP' free, and are certified as latex-free. The Swiss Oeko-Tex Institute has also tested some yoga mats as "free of harmful substances" and provides Oeko-Tex for some products. Alternatively, yoga mats are made from Thermoplastic elastomer, TPE, which is deemed more environmentally friendly than PVC. Some yoga mats marketed as "eco-conscious" are made of jute intermixed with a thin rubber layer for floor grip. Some outdoor mats are made of bamboo.
CARE AND HYGIENE
General care instructions include advice on how to machine wash mats, or alternatively to wipe down the mat with a warm wet cloth and allow to air dry.
To read more about mats, please lick on the following link: http://en.wikipedia.org/wiki/Yoga_mat