The following article was sourced from a Wikipedia page at the following address:
http://en.wikipedia.org/wiki/Concealer
CONCEALER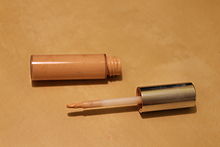 Liquid concealer
A concealer or colour corrector is a type of cosmetic that is used to mask dark circles, age spots, large pores, and other small blemishes visible on the skin. It is similar to foundation, but thicker and used to hide different pigments by blending the imperfection into the surrounding skin tone. It is normally applied after primer, after foundation and used on the face.
Both concealer and foundation are typically used to make skin appear more uniform in colour. These two types of cosmetics differ in that concealers tend to be more heavily pigmented, though they are available in a wide range of opacity. It also comes in different forms from liquid to solid. Also, foundation is usually applied to larger areas. The first commercially available concealer was Max Factor's Erace, launched in 1938. Concealer can be used alone or with foundations. Camouflage makeup is a much heavier pigmented form of concealer. It is used to cover serious skin discolorations such as birthmarks, scars and vitiligo. An example of a modern camouflage makeup is Colortration, which is a liquid cover makeup.
Concealer is available in a variety of shades, from lightest to deepest. When picking a concealer, people tend to choose one or two shades lighter than their skin tone to better hide their blemishes and dark circles under the eye. Some colours are intended to look like a natural skin tone, while others are meant to contrast with a particular type of blemish. Concealers with yellow undertones are used to hide dark circles. Green and blue can counteract red patches on the skin, such as those caused by pimples, broken veins, or rosacea. A purple-tinted concealer can make sallow complexions look brighter. Coloured concealers such as these are usually applied sparingly beneath a concealer or foundation that matches the wearer's skin tone. Skin-toned concealers are not only the most common type, but are often sufficient on their own at hiding or blurring imperfections.
To read more about concealers, please click on the following link:
http://en.wikipedia.org/wiki/Concealer