The following article was sourced from a Wikipedia page at the following address: http://en.wikipedia.org/wiki/Belt_(clothing)
BELTS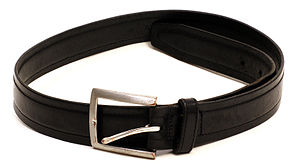 A common, black leather leg belt
A belt is a flexible band or strap, typically made of leather or heavy cloth, and worn around the waist. A belt supports trousers or other articles of clothing.
HISTORY
Belts have been documented for male clothing since the Bronze Age. Both genders used them off and on, depending on the current fashion. In the western world, belts were more common for men, with the exception of the early Middle Ages, late 17th century Mantua, and skirt/blouse combinations between 1900 and 1910. Art Nouveau belt buckles are now collector's items. Kazakhstan claims to have invented the modern belt, but this has not been substantiated.
In the period of the latter-half of the 19th century and up until the first World War, the belt was a decorative as well as utilitarian part of the uniform, particularly among officers. In the armed forces of Prussia, Tsarist Russia, and other Eastern European nations, it was common for officers to wear extremely tight, wide belts around the waist, on the outside of the uniform, both to support a sabre as well as for aesthetic reasons. These tightly cinched belts served to draw in the waist and give the wearer a trim physique, emphasizing wide shoulders and a pouting chest. Often the belt served only to emphasize waist made small by a corset worn under the uniform, a practice which was common especially during the Crimean Wars and was often noted by soldiers from the Western front. Political cartoonists of the day often portrayed the tight waist-cinching of soldiers to comedic effect, and some cartoons survive showing officers being corseted by their inferiors, a practice which surely was uncomfortable but deemed to be necessary and imposing.
In modern times, men started wearing belts in the 1920s, as trouser waists fell to a lower line. Before the 1920s, belts served mostly a decorative purpose, and were associated with the military. Moreover, prior to that trousers did not even have belt loops. In sports, trousers with belt loops were present in the 19th century already. Today it is common for men to wear a belt with their trousers.
Since the mid-1990s, the practice of sagging, which has roots tracing to prison gangs and the prohibition of belts in prison (due to their use as weapons and devices for suicide), has been practiced at times among young men and boys.
VARIANTS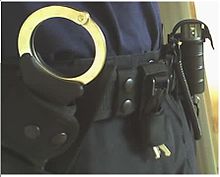 A police officer's duty belt (not a leg belt)
One specialized type of belt is the utility belt or Police duty belt, which includes pockets for carrying items that the wearer needs for prompt use and loops to hang larger items. Police officers, soldiers, and repair personnel are typical roles which use this kind of belt. Duty belts are generally wider than dress belts, and are stiffer to better provide for the carry of heavy items such as pistols. It is common military practice for such a belt to be a symbol of authority or that one is 'on duty.' Such belts are worn even if no equipment is carried on them. A notable fictional example is Batman's utility belt.
The obi is traditionally part of a Japanese kimono.
A common sight in fantasy and role playing characters is the excessive use of belts in all different sizes on one's person. Usually they are used either for securing clothing and armour, but others just have several belts around the arms, legs, neck, waist, hips, and across the breasts for decoration. Sometimes they are used in place of eye patches or to decorate weapons. This was also common in superhero costume design of the early 1990s.
A studded belt is typically made of leather or similar materials, and is decorated with metal studs. Studded belts are often a part of punk/emo scene, skater, Goth and metal fashion, but is more common for teenage girls, usually worn with jeans and high heels, or knee-high heeled leather boots tucked in to jeans.
Instead of wearing a conventional belt, skateboarders often wear shoelaces in belt loops to hold their pants up. This is done mostly for fashion, but it is also useful because belt buckles often dig into a skater's stomach when skating. Since shoelaces don't require belt buckles, this digging is avoided. Another reason this is done is to avoid the excessive pain belts can cause if a skateboarder should fall.
They are also used in judo, karate and other martial arts, where different colours may indicate rank or skill.
A breast belt is a belt worn by women that holds their breasts up, making them appear larger or more prominent underneath clothing. It is worn generally above or on the stomach but just beneath the breasts.
The leg belt is another fashionable article of clothing which, as the name suggests, one wears upon the leg.
People use Ammo belt like shotgun belt, rifle belt to carry their shells while hunting.
For more in formation about belts, please click on the following address: http://en.wikipedia.org/wiki/Belt_(clothing)