The following article was sourced from a Wikipedia page at the following address: http://en.wikipedia.org/wiki/Bucket_hat
BUCKET HATS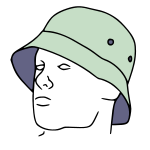 Line drawing of a bucket-shaped hat showing ventilation eyelets
A bucket hat (also known as a fisherman's hat or crusher hat) is a headwear design with a wide and downwards sloping brim. Typically, the hat is made from heavy-duty cotton fabric such as denim or canvas, with two metal eyelets placed on each side of the hat for ventilation.
It was first adopted as a high fashion item in the 1960s, and with subsequent revivals in both street fashion and on the catwalk.
ORIGINS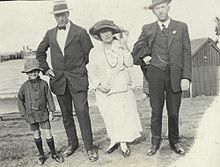 Australian boy wearing tweed bucket hat, 1917
The bucket hat or fishing hat is said to have been introduced around 1900. Originally made from wool felt or tweed cloth, these hats were traditionally worn by Irish farmers and fishermen as protection from the rain, because the lanolin from the unwashed (raw) wool made these hats naturally waterproof. From the interwar years onwards, these "Irish walking hats" were quickly adopted internationally for country pursuits because, when folded, they could fit inside a coat pocket. If the hat fell in the mud, it could be easily cleaned with a damp sponge, and it could be reshaped using steam from a kettle. In the 1960s, it was widely seen in the TV series Gilligan's Island and was often worn by members of the Mod subculture.
The modern bucket hat is derived from a tropical hat made from olive drab cotton that was issued to the US Army during the Vietnam War. These lightweight hats became popular among civilians for use in sports such as fishing, and as sun protection.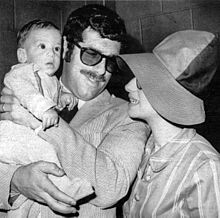 Barbra Streisand – shown here with Elliott Gould and son Jason Gould – wearing a fashionable oversized bucket hat in 1967
FASHION ACCESSORY
In the 1960s, the bucket hat was adapted as a ladies' fashion item, in common with the pillbox bakerboy and cloche styles, suiting the fashion for more bouffant hair. Milliners such as Lilly Daché created designs in felt or other stiffer fabrics to capture the 'mod' look. The older tweed Irish walking hat remained popular among professional men until the 1970s, and was notably worn by Sean Connery's character in Indiana Jones and the Last Crusade.
The hat became popular with rappers in the 1980s and remained part of street fashion into the 1990s. More recently, it has re-emerged as a fashion catwalk item after being sported by celebrities such as Rihanna.
REGIONAL NAMES AND VARIATIONS
In Australia, this hat is referred to as a "Bucket Hat" and not a "Giggle Hat" contrary to popular belief. Giggle hat can be used to refer to a "Boonie Hat" which is commonly worn by the Australian army or gardeners.
In Israel, it is known as a "Rafael hat"; as Rafael Eitan, an Israeli general, politician, and former Chief of Staff of the Israel Defense Forces used to wear one. A similar type of hat called a tembel hat is dubbed the national hat of Israel as it was worn by Israeli Halutzim to protect from sun burn.
In Sweden, it is known as a "Beppehatt" or "Beppemössa", since Beppe Wolgers, a Swedish author and artist, used to wear it and made it popular in the 1970s.
In South Africa, it is known as an "ispoti" and is very popular with urban black youth, representing being streetwise without copying foreign hip-hop trends.
In Russia, the hat is called "panamka".
In Tanzania, it is very popular among elders, especially among the Iraqw people.
In the UK., this style of hat is occasionally known as a "Reni Hat" after The Stone Roses drummer "Reni" (Alan Wren), who was easily identified by his bucket hat.
In the USA, a similar hat is used officially by the U.S. Navy for enlisted service dress uniforms, commonly referred to as a Dixie Cup hat, as in the manufacturer brand of paper cups.
N POPULAR CULTURE
Bucket hats are favoured by glider pilots, who require shade in their cockpits but cannot wear wide-brimmed hats because they must be able to see in all directions.
The fictional character Dale Horvath, in The Walking Dead, is always portrayed wearing a bucket hat.
The fictional character, JJ Evans in Good Times, often wore a bucket hat in episodes.
The fictional character Kisuke Urahara from Bleach often wears an iconic green and white bucket hat, along with a pair of sandals, that has given him the nickname
The fictional character Takeru "T.K." Takaishi in Season 02 of Digimon Adventure wears a white bucket hat.
The pseudonymous Raoul Duke in Fear and Loathing in Las Vegas wears a bucket hat.
80s Hip Hop artist LL Cool J is said to have first popularized the bucket hat in Hip Hop culture.
Rapper Schoolboy Q commonly sports a bucket hat as part of his aesthetic.
Rapper Yung Lean also wears a bucket hat in several promotional and personal pictures, as well as live shows.
To read more about bucket hats, please click on the following link: http://en.wikipedia.org/wiki/Bucket_hat