The following article was sourced from a Wikipedia page at the following address: http://en.wikipedia.org/wiki/Fedora
FEDORAS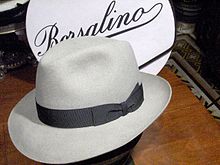 A fedora made by Borsalino with a gutter-dent, side-dented crown, the front of the brim "snapped down" and the back "snapped up"
A fedora is a felt hat with a wide brim and indented crown. It is typically creased lengthwise down the crown and "pinched" near the front on both sides. Fedoras can also be creased with teardrop crowns, diamond crowns, center dents, and others, and the positioning of pinches can vary. The typical crown height is 4.5 inches (11 cm).
The brim is usually approximately 2.5 inches (6.4 cm) wide, but may be wider, can be left "raw edged" (left as cut), finished with a sewn overwelt or underwelt, or bound with a trim-ribbon.
The term fedora was in use as early as 1891. Its popularity soared, and eventually it eclipsed the similar-looking homburg.
HISTORY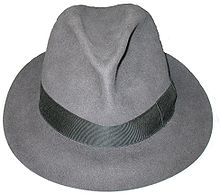 Another example of a fedora made by Borsalino, with a pinch-front teardrop-shaped crown
The word fedora comes from the title of an 1882 play by dramatist Victorien Sardou, Fédora, written for Sarah Bernhardt. The play was first performed in the United States in 1889. Bernhardt played Princess Fédora, the heroine of the play. During the play, Bernhardt wore a center-creased, soft brimmed hat. The hat was fashionable for women and the women's rights movement adopted it as a symbol. After Prince Edward of Britain started wearing them in 1924, it became popular among men for its stylishness and its ability to protect the wearer's head from the wind and weather. Since the early part of the 20th century, many Haredi and other Orthodox Jews have made black fedoras normative to their daily wear.
IN POPULAR CULTURE
Fedoras have become widely associated with gangsters and Prohibition, which coincided with the height of the hat's popularity in the 1920s to early 1950s. In the second half of the 1950s, it fell out of favor due to a shift towards more informal clothing styles.
Indiana Jones popularized the fedora in the Indiana Jones franchise.
American college football coach Bear Bryant could be seen on national television wearing his trademark plaid and houndstooth fedoras. He also appeared on the cover of Time magazine in 1980 (under a headline reading "Supercoach") wearing a fedora. Coach Tom Landry also wore the hat while he was the head coach of the Dallas Cowboys. It would later become his trademark image. A cenotaph dedicated to Landry with a depiction of his fedora was placed in the official Texas State Cemetery in Austin at the family's request. In addition the Cowboys wore a patch on their uniforms during the 2000 season depicting Landry's fedora.
Michael Jackson frequently wore a fedora in public appearances, concerts and video clips.
German anatomist Gunther von Hagens always wears a fedora during public appearances, including dissections of bodies.
To read more about fedoras, please click on the following link: http://en.wikipedia.org/wiki/Fedora