The following article was sourced from a Wikipedia page at the following address: http://en.wikipedia.org/wiki/Rastacap
RASTACAPS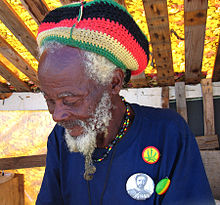 Rastafarian in Barbados wearing a rastacap
The rastacap (sometimes spelled rastahcap or rastercap, depending upon local patois) is a tall, round, usually crocheted cap, which is often brightly coloured. It is most commonly associated with the pat as a way for Rastafarians (Rastas) and others with dreadlocks to tuck their locks away, but may be worn for various reasons (such as religious) by Rastas and non-Rastas. The cap is worn mostly by men. It is sometimes erroneously referred to as a "Tam" (or "tam"), a different kind of hat that was loosely ancestral to the rastacap. Other Caribbean-islander terms for the rastacap include rastafar (sometimes with a silent terminal -r), toppa[h] and simply cap or hat.
In construction, the rastacap is similar to the tuque, but much larger. Most commonly crocheted, the hat can also be knit, woven, sewn, or constructed in a number of other ways. Examples with sun-cured palm leaves woven into the hat exist; this yields a semi-rigid design which a skilled islander can form rapidly. Rastacaps range in size and shape, as well as uses. People with dreadlocks and non-dreaded people alike wear rastacaps for fashion, convenience, socio-political statement, and a number of other reasons. Some Rastas also wear rastacaps and other forms of headdress as a religious headcovering. It may also be worn by health and food service and heavy machinery workers with long hair, for workplace safety reasons.
People of Jamaica and Barbados, as well as some outlying islands, have separately claimed to have originated the cap style, claiming ancestral heritage or even personal invention, albeit without credible, documented proof, relying on un-substantiated drawings or mythical reference.
To read more about rastacaps, please click on the following link: http://en.wikipedia.org/wiki/Rastacap