The following article was sourced from a Wikipedia page at the following address:
https://en.wikipedia.org/wiki/Chest_(furniture)
CHESTS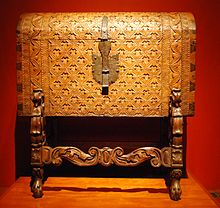 Mexican Colonial era chest at the Franz Mayer Museum.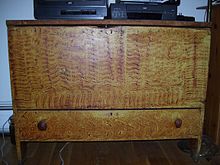 Early 19th Century American pine blanket chest or sugar chest, painted to look like curly maple
A chest (also called coffer or kist) is a form of furniture typically of a rectangular structure with four walls and a liftable lid, for storage. The interior space may be subdivided. The early uses of an antique chest or coffer included storage of fine cloth, weapons, foods and valuable items.
A cassone is a kind of carved or painted chest associated with late Medieval and Renaissance Italy. Cassones, also called marriage chests, were often used to carry the dowry goods in a marriage ceremony.
A simple chest, called a wakis (wagon-kist) was commonly used in the Cape Colony as a seat on a wagon. To make it more usable, it often had a wooden support along the centre of the top so that the seated driver would not slide off so easily. In addition to this use, they were also used for storage at home; keeping clothes, food and other commodities safe. They were frequently made with one or more sides sloping downwards, although the top was always horizontal. Many are made of very good woods, like yellowwood and survived well. Some manufacturers also painted the front of the kist with relatively simply designs reminiscent of, and presumably originating from Europe bauernmalerei.
In Medieval and early Renaissance times in Europe low chests were often used as benches while taller chests were used as side tables. By placing a chest on the side on any kind of rough table, the inner surface of its lid could be used as a proper writing surface while the interior could house writing implements and related materials, as was the case with the Bargueño desk of Spain. Many early Portable desks were stacked chests, with the top one having its lid on the side, to serve as a writing surface when opened.
In fantasy, fables, and games, "treasure chests" are frequently used as a plot device to contain treasure such as gold or jewels. The meaning can be a lot of things. The classical is a reward for a protagonist. In some stories a form of MacGuffin, a literary device which exists solely to drive forward a plot. A "toy chest" is a type of chest that usually carries children's toys, like dolls or building blocks.
In some Slavonic countries, for example, in Ukraine, chests were a family relic, especially in peasant families. Each Ukrainian girl received her own chest at the age of 15 for her future bride's dowry. Peeping in the girl's chest was considered impolite. Coffers were an indicator of a family's wealth. Ukrainian girls and women also used them to keep their garments and some personal items – towels, jewellery, tools for embroidering etc. A big collection of Ukrainian traditional chests dated by the 18–20th cc. is kept in the Radomysl Castle (Zhytomyr Region, Ukraine).
or more information about chests, please click on the following link:
https://en.wikipedia.org/wiki/Chest_(furniture)