The following article was sourced from a Wikipedia page at the following address:
https://en.wikipedia.org/wiki/Hoosier_cabinet
HOOSIER CABINETS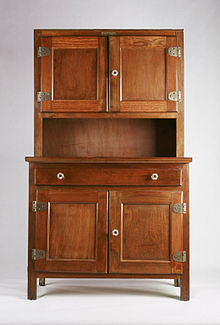 A Hoosier type cabinet made by Sellers, in the mid-20th century. In the collection of the Children's Museum of Indianapolis.
A Hoosier cabinet (also known as a "Hoosier") is a type of cupboard popular in the first decades of the 20th century. Named after the Hoosier Manufacturing Co. of New Castle, Indiana, they were also made by several other companies, most also located in Indiana.
FEATURES
The typical Hoosier cabinet consists of three parts. The base section usually has one large compartment with a slide-out shelf, and several drawers to one side. Generally it sat on small casters. The top portion is shallower and has several smaller compartments with doors, with one of the larger lower compartments having a roll-top or tambour. The top and the bottom are joined by a pair of metal channels which serve as the guide for a sliding countertop, which usually has a pair of shallow drawers affixed to its underside. The whole assembly, with the counter retracted, is fairly shallow, about 2 feet deep; the width and height are generally about 4 feet and 6 feet respectively.
A distinctive feature of the Hoosier cabinet is its accessories. As originally supplied, they were equipped with various racks and other hardware to hold and organize spices and various staples. One particularly distinctive item is the combination flour-bin/sifter, a tin hopper that could be used without having to remove it from the cabinet. A similar sugar bin was also common.
Special glass jars were manufactured to fit the cabinet and its racks. A major manufacturer of the glassware was Sneath Glass Company. Original sets of Hoosier glassware consisted of coffee and tea canisters, a salt box, and four to eight spice jars. Some manufacturers also included a cracker jar. One distinctive form was a cylindrical jar with a ring moulded around its centre, to allow it to rest in the holes of a metal hanging rack.
On the inside of the doors, it was common to have cards with such information as measurement conversions, sample menus, and other household helps.
HISTORY
The Hoosier Manufacturing Co. was incorporated in 1899 with John M. Maring as President. Houses of the period were frequently not equipped with built-in cabinetry, and the lack of storage space in the kitchen became acute. Hoosier adapted an existing furniture piece, the baker's cabinet, which had a similar structure of a table top with some cabinets above it (and frequently flour bins beneath). By rearranging the parts and taking advantage of (then) modern metal working, they were able to produce a well-organized, compact cabinet which answered the home cook's needs for storage and working space.
Hoosier cabinets remained popular into the 1920s, but by that time houses began to be built with more modern kitchens with built-in cabinets and other fixtures. Thus supplanted, the Hoosier largely disappeared. They remain common on the antique market, however, and are still used as supplemental cabinets.
For more information about hoosier cabinets, please click on the following link:
https://en.wikipedia.org/wiki/Hoosier_cabinet