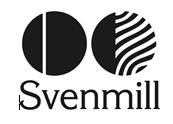 Svenmill - South Africa's leading curtain destination.
Established for over 50 years, Svenmill is a leading local manufacturer and exporter of woven and warp knitted decorative upholstery and curtaining fabrics, as well as readymade products including curtains, tablecloths and scatter cushions.
Svenmill is a leading manufacturer and supplier for a host of leading retail chain stores in Southern Africa.
The Svenmill factory shop gives the public the opportunity to purchase top quality items at a fraction of the normal retail price. The stock consist of over runs, returns and a small amount of "seconds".
Individual and bulk buyers are welcome to visit the shop to purchase.
Items available include:
Readymade unlined curtains (232 x 18 and 230 x 250 (extra length)
Curtain material on rolls and sold by the metre
Blockout curtains (80% blockout)
Lace curtains including printed Dutch lace
Curtain tape (2, 3 and 6 string sizes)
Upholstery fabrics I a range of materials and designs
Table cloths (90 x 90 cm and 150 x 250 cm
Lace table cloths (150 x 250 cm)
Throws
Plus much more.
There is ample parking available at the shop and we look forward to assisting customers and assessing their curtaining needs. Our experience in curtaining is waiting to be shared with you.