THE CAROLINA REAPER - +/- 2,200,000 SHU (Scoville Heat Units)
As of August 2013, Guinness World Records stated that Smokin' Ed's Carolina Reaper® is officially the world's hottest chilli pepper. Originally named the "HP22BNH7", this pepper is bred by cultivator Ed Currie, who runs PuckerButt Pepper Company in Fort Mill, South Carolina.
As a comparison, Tabasco sauce rates between 2,500 and 5,000 SHU on the Scoville Scale.
New Chilli Arrivals at The Carolina Reaper Chili Factory Shop
This has not been our best season for chillies, but these have just been harvested and are currently frozen. Stocks are limited, so first come, first served.
Chillies can either be collected in Milnerton, Cape Town or couriered nationally via Postnet, at a flat fee of R150.
The large chillies are normally seed bearing chillies and these seeds can be cultivated to grow your own chilli plants.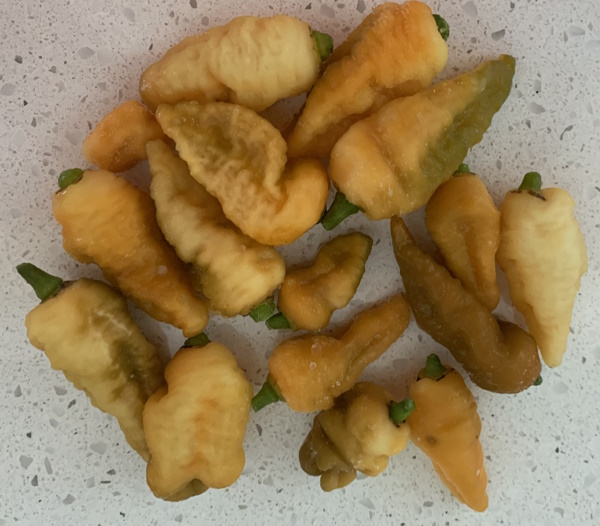 Yellow Bhut Jolokia Chillies
The Yellow Bhut Jolokia Pepper is a spicy yellow Ghost Pepper, which is among the World's Hottest Pepper! This wrinkled yellow pepper is 125 times hotter than a Jalapeno pepper! This Bhut Jolokia variety is a rare, natural variant of the Red Bhut Jolokia.
Small – R5 each
Medium – R10 each
Large – R20 each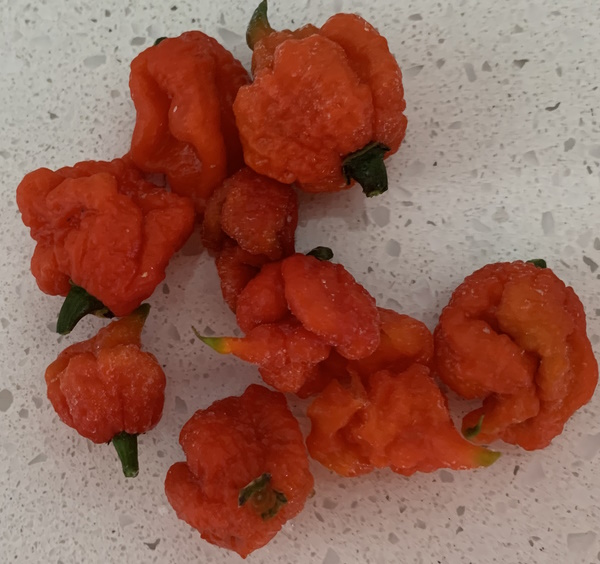 Carolina Reapers Orange Chillies
The Orange Carolina Reaper is a rare strain of the Carolina Reaper pepper, which is currently the hottest pepper in the world, according to Guinness World Records.
Small – R5 each
Medium – R10 each
Large – R20 each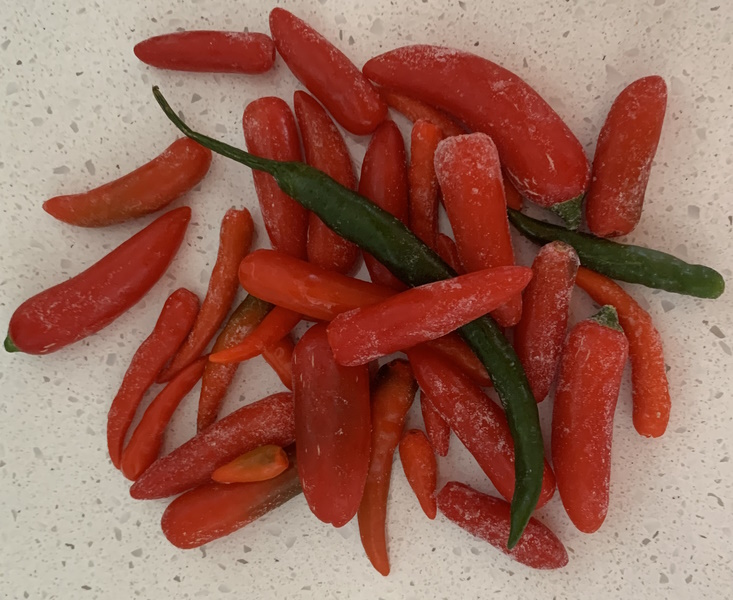 Bird's Eye Chillies
Bird's eye chili or Thai chili is a chili pepper, a variety from the species Capsicum annuum native to Mexico. Cultivated across Southeast Asia, it is used extensively in many Asian cuisines.
R1 each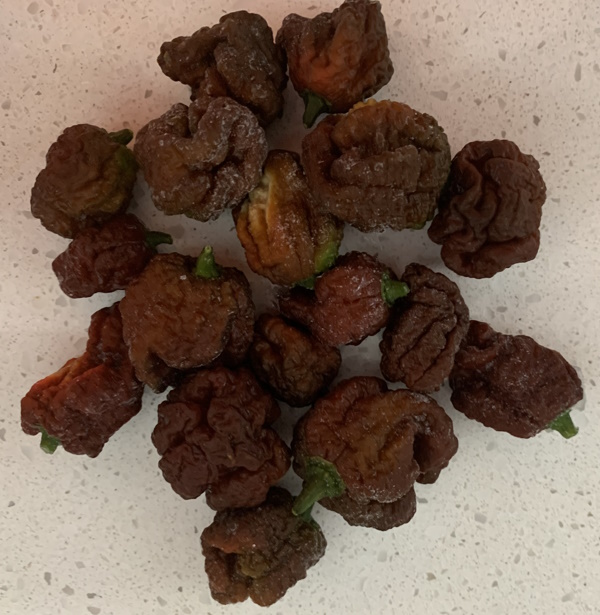 Carolina Reapers Chocolate Chillies
Carolina Reaper (Red) is officially the hottest pepper variety in the world. This is a naturally occuring chocolate variant of the parent yet to be heat tested. It may become the hottest chili pepper in world! This is an extremely hot chili pepper, be careful when handling these seeds and peppers.
Small – R5 each
Medium – R10 each
Large – R20 each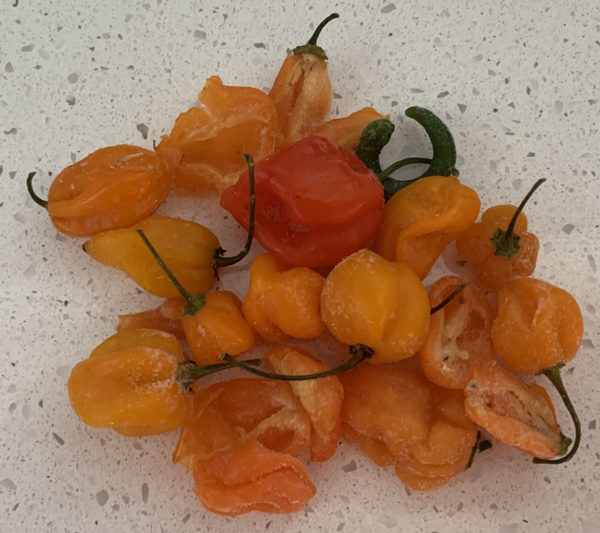 Habanero Chillies
The habanero is a hot variety of chili. Unripe habaneros are green, and they color as they mature. The most common color variants are orange and red, but the fruit may also be white, brown, yellow, green, or purple.
R5 each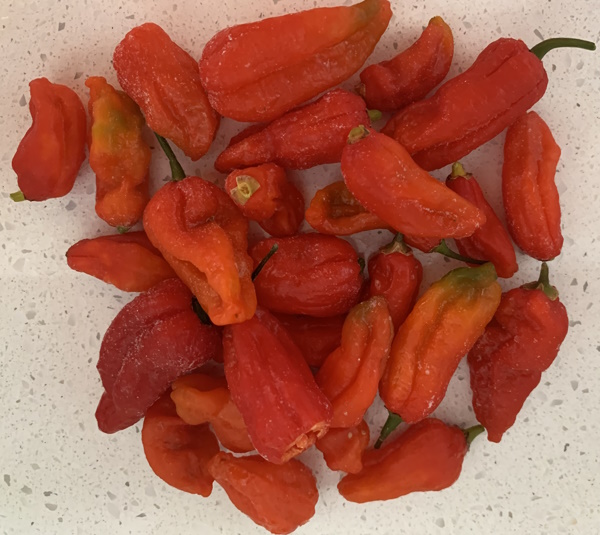 Ghost Pepper Chillies
The ghost pepper, also known as bhut jolokia, is an interspecific hybrid chili pepper cultivated in Northeast India. It is a hybrid of Capsicum chinense and Capsicum frutescens. In 2007, Guinness World Records certified that the ghost pepper was the world's hottest chili pepper, 170 times hotter than Tabasco sauce, before the Carolina Reaper overtook it.
Small – R5 each
Medium – R10 each
Large – R20 each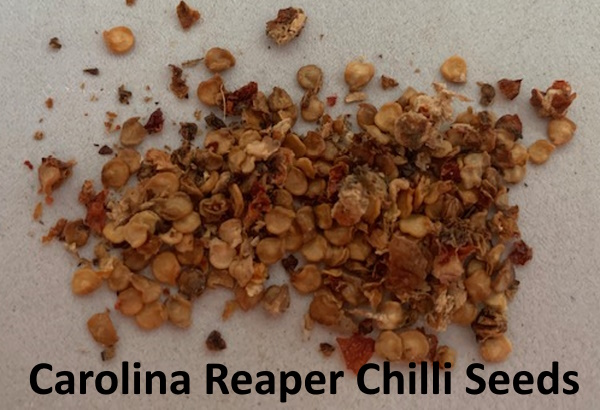 Carolina Reaper Chilli Seeds
R5 each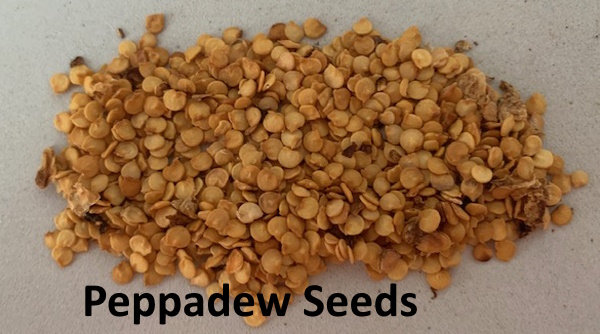 Peppadew Seeds
R2 each
These chillies are not for the faint hearted but are ideal for cooking – full of flavour and heat!
Handle with care, whatever you do.
Use the seeds to start cultivating your own plants – this a lengthy process but worth the trouble.
We courier nationwide, Postnet to Postnet.
We do not have a physical shop – please phone or email to purchase.
WE NOW ALSO SELL PEPPADEW SEEDS AT R5 EACH.
Please click here to view our catalogue