The following article was sourced from a Wikipedia page at the following address: http://en.wikipedia.org/wiki/Birkin_bag
BIRKIN BAGS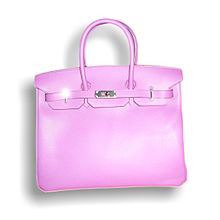 Birkin bag made from dyed pink calf leather
The Birkin bag is a handbag by Hermès, handmade in leather and named after actress and singer Jane Birkin. The bag is a symbol of wealth due to its high price and usage by celebrities.
Its prices range from £6,700 to £100,000 ($10,500 to $150,000). Costs escalate according to the type of materials. The bags are distributed to Hermès boutiques on unpredictable schedules and in limited quantities, creating scarcity and exclusivity.
HISTORY
In 1981, Hermès chief executive Jean-Louis Dumas was seated next to Jane Birkin on a flight from Paris to London. She had just placed her straw bag in the overhead compartment of her seat, but the contents fell to the deck, leaving her to scramble to replace them. Birkin explained to Dumas that it had been difficult to find a leather weekend bag she liked. In 1984, he created a black supple leather bag for her, based on a 1982 design. She used the bag for herself then later changed her mind because she was carrying too many things in it: "What's the use of having a second one?" she laughs. "You only need one and that busts your arm; they're bloody heavy. I'm going to have to have an operation for tendonitis in the shoulder." Nevertheless, the bag has since become an icon.
DESIGN
Birkin bags are sold in a range of sizes. Each one may be made to order with different customer-chosen hides, colour, and hardware fixtures. There are other individual options, such as diamond-encrusting.
The bag also has a variety of hides such as calf leather, ostrich, crocodile, and lizard. One of the most expensive is saltwater crocodile skin. Bags with smaller scales cost more than those with larger scales. The bag is lined with goat-skin. The colour of the interior matches the exterior. Prices for the Birkin bag depend on the colour, hardware fixtures, and skin.
Sizes are 25, 30, 35, and 40 centimetres. The 50- and 55-centimeter bags are meant for travelling. It also comes in a variety of colours such as pink, red, brown, baby blue, navy blue, olive green, orange, white, black, and golden tan.
The bag has a lock and keys. The keys are enclosed in a leather lanyard known as a clochette, carried by looping through a handle. The bag is locked by closing the top flaps over buckle loops, wrapping the buckle straps, or closing the lock on the front hardware. Locks and keys are number-coded. Earlier locks only bore one number on the bottom of the lock. In more recent years, Hermès has added a second number under the Hermes stamp of the lock. These numbers for locks can be the same for hundreds of locks as they are batch numbers in which the locks were made.
The metallic hardware (the lock, keys, buckle hardware, and base studs) are plated with gold or palladium to prevent tarnishing. Hardware is updated regularly to maintain the top quality available in the industry at time of production. The metal lock may be covered with leather as a custom option. Diamonds are another custom addition.
Hermès offers a "spa treatment" – a reconditioning for overly used bags.
A "Shooting Star" Birkin has a stamp shaped like a shooting star adjacent to the "Hermès, Paris Made in France" stamp; this is in gold or silver to match the hardware and embossing. Rarely, the stamp is blind or colourless, if the bag is made of one or two leathers on which Hermès does not use metallic stamping. Birkins or other Hermès bags can sometimes be made by independent craftsmen for "personal use" once a year. Every bag bears the stamp of the craftsperson who made the bag. These identifications vary widely but are not different for every bag made. More than one craftsman's stamp on a bag is not uncommon because the stamp is not a serial reference. Fonts and stamping orders may vary depending on the craftsman.
Visible difference between the Hermes Birkin and Hermès Kelly handbag. The easiest way to identify the difference between the handbags is the handles. The single handle handbag is the Kelly, and the Birkin has two handles.
CRAFTSMANSHIP
The bags are handmade in France by expert artisans. The company's signature saddle stitching, developed in the 1800s, is another distinctive feature.
Each bag is hand-sewn, buffed, painted, and polished, taking several days to finish. An average bag is created in 48 hours. Leathers are obtained from different tanners in France, resulting in varying smells and textures. Because of the individual craftsmanship, other details of the bags may not all match. The company justifies the cost of the Birkin bag, compared to other bags, based on the meticulous craftsmanship and scarcity.
According to most recent estimates Hermès is producing 70,000 Birkin bags each year.
DEMAND
It is highly coveted and, for several years, was reputed for having a waiting list of up to six years – the longest wait for any bag in history. As a result of the strong demand, the Birkin bag has a high resale value in many countries, especially in Asia. In April 2010, Hermès announced that the waiting list would no longer exist, implying that it is potentially available to all. The Philippine Star reported in March 2013 that a very high-end, 30-cm Shiny Rouge H Porosus Crocodile Birkin with 18K gold fittings and encrusted with diamonds fetched US$203,150 at an auction in Dallas, Texas. Web articles explaining how to buy a Birkin are very popular.
To read more about Birkin bags, please click on the following link: http://en.wikipedia.org/wiki/Birkin_bag