The following article was sourced from a Wikipedia page at the following address: http://en.wikipedia.org/wiki/Fanny_pack
MOON BAGS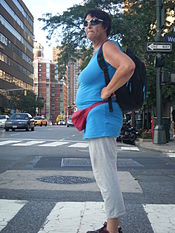 Woman wearing a red fanny pack
A fanny pack (US, Canada), waist wallet (Canada), belt pack (US), belt bag (Philippines), belly bag (US), chaos pouch (US), buffalo pouch (US), hip sack (US), phany pack (US), waist bag (or waistpack) (US), hip pack (UK), bum bag (UK, Australia, New Zealand), Snatchel (UK), Kangaroo and Koala (South America, Ireland), butt pack (US) or moon bag (South Africa), is a small fabric pouch usually secured with a zipper and worn by use of a strap around the hips or waist.
HISTORY
The name "fanny pack" is derived from the way they were traditionally worn facing the rear above the buttocks, for which "fanny" is a slang term in the United States. Despite the name, many users do not wear fanny packs on their rear because they are easier to pickpocket and harder to access. In the Anglosphere outside of North America, other names are used since the word "fanny" means vulva, rather than buttocks, in those countries.
Many observers consider the fanny pack a sure mark of an out-of-place tourist, evoking the traditional tourist stereotypes known around the world, or regard them as an item worn by unfashionable or older people. Musician "Weird Al" Yankovic mocks the wearing of fanny packs in his song "White & Nerdy."
The handiness and ease of opening of fanny packs has also resulted in them being used as holsters for handguns in the USA. Many manufacturers make fanny packs that are designed for concealed carry. Some military and law enforcement units also utilize fanny packs to carry additional equipment, such as first aid, night vision, markers, etc.
Calling them "belted satchels" or "hands-free bags," several designer labels sought to bring the accessory back into vogue in early 2011, by offering stylish and expensive designs selling for as much as $1995.
BUFFALO POUCH
A fanny pack is one variation of a buffalo pouch because buffalo pouches may also be worn on the wrist or carried on the front of the chest via a neck strap or lanyard. Native Americans used buffalo pouches instead of sewing pockets into their clothing.
GALLERY


Artificial leather fanny pack with side-release belt buckle, belt slide for adjustment and top-open zipper compartment


A woman wearing a large black leather fanny pack
To read more about moon bags, please click on the following link: http://en.wikipedia.org/wiki/Fanny_pack